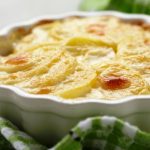 Scallop Potatoes
I like to use a large pie plate to bake and serve the scallop potatoes. It is very pleasing to the eye. Most people eat with their eyes before their mouths. This is easy to prepare with most ingredients that cooks have in their pantry. Enjoy the crunch on top and indulge with the creamy filling inside.
4

large

potatoes

peeled and sliced into 1/4 inch rounds

4-6

ounces

unsalted butter

You may need more

1/2 +

cup

grated Parmesan cheese

You may need more

Kosher salt and pepper to taste

1/2+

cup

Whole milk
Preheat oven to 350 degrees.

Grease a large glass pie dish or other kind of baking dish with a little butter to coat bottom of pan.

Layer sliced potatoes.

Cut butter into small pieces. Dot on potatoes.

Sprinkle on grated cheese and salt and pepper.

Repeat layers.

Pour milk into a cup with a spout. Pour around the sides of the dish until it reaches about 1/3 up the sides.

Bake uncovered 35-45 minutes. Do not let the top layer burn. It should look brown and crispy, when done. Put a toothpick in to check for softness of the potatoes.