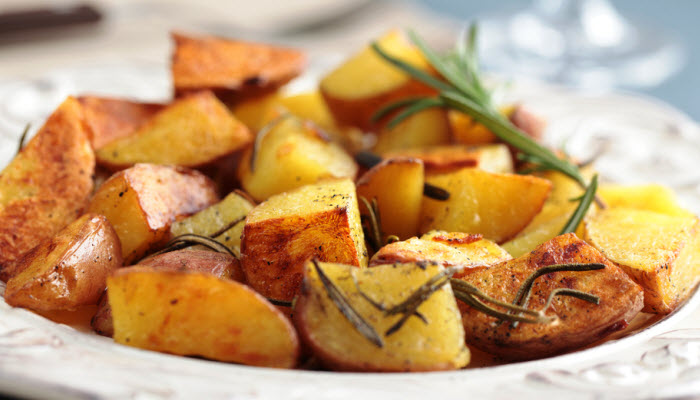 Oven Roasted Potatoes with Rosemary and Garlic
The Backstory: This simple Oven Roasted Potatoes side dish can be made with a variety of seasonings. Whatever suits your taste. But my taste for these spuds is usually rosemary and garlic. Somehow rosemary with it's  "woodsy" aroma and taste is my go too seasoning. As for garlic, no explanation is needed. I have served these  roasted potatoes with fish, chicken and beef. An ordinary main entree can be dressed up with fancy potatoes or just fancy veggies.  My gal friend, Roz, told me that almost 60 years ago. More of the Backstory after the recipe…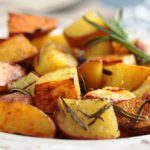 Oven Roasted Potatoes with Rosemary and Garlic
Looks good and taste even better. They are so yummy that I could devour them and nothing else. Enjoy.
Ingredients
4

large

potatoes

scrub potatoes and cut in small chunks

1-2

tbsp.

vegetable or olive oil

1

tsp.

Kosher salt

1/2

tsp.

black pepper

1

tbsp.

minced garlic

1

tbsp.

fresh chopped rosemary

dried rosemary can be used.
Instructions
Preheat oven to 400 degrees. Line baking sheet with aluminum foil.

In a deep bowl mix potatoes, oil, salt, pepper garlic and rosemary. Put potatoes onto baking dish. Spread out into a single layer.

Put into oven and bake for about 30 minutes. Check occasionally. Adjust time if need be.
…The Backstory continues: My husband was recalled into the military on an executive order from President Kennedy in August of 1961. It was a nail biting time. Thank G-d everything worked out okay. Roz and her husband invited me to dinner and she served some sort of beef, I cannot recall what it was.  A baked potato wrapped in tin foil and string beans with almonds. The meal was delicious.  I have followed her advice whenever possible. Thank you Roz–you and your husband were the only one of my friends who reached out to me during that time. You kept in touch and invited me to come for dinners over the next 10 months. I never forgot it. So always on the lookout for a at least one "fancy" side I found these Roasted Potatoes with seasonings, and boy, did they steal the show.  They looked great and the aroma was inviting.  Everyone loved them. I gave the recipe to many people. It was that good.  I hope you enjoy this dish as much as all who tasted them did.
Please follow and like us: