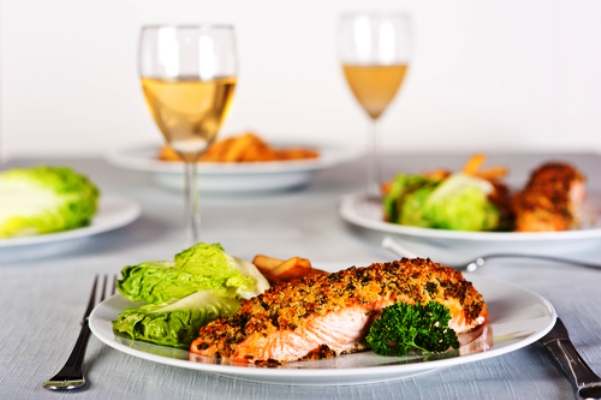 The Backstory: This is so easy and delicious to make.  I live alone, and I look for recipes that take me little time and little prep.  I also make this for my niece-in-law Phyllis. I try to vary my menu when she comes for dinner. I rarely do however change from my fool proof menu.  My hubby and kids were not fish lovers. That was then, now they do enjoy it. More of the Backstory after the recipe…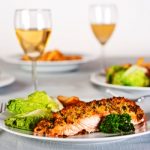 Oven Baked Salmon
Even though the salmon is easy to prepare and is so tasty, there are many variation besides the ones mentioned her. Every cook you speak to will tell you theirs is best. I am sure they are right. Try this one and you will definitely keep this with your recipe collection, Serve with lemons. or a dill sauce or rice, you will love it.
Ingredients
1 1/2-2

lbs

Salmon

Can be sliced in to portions or left whole. Skin left on.

3

tbs.

canola or vegetable oil

1/2

tsp.

Kosher salt

1/2

tsp

pepper

1

cup

dried bread crumbs

unseasoned

2

tbs.

dried dill

any herb can be used

2

tbs.

grated Parmesan cheese

optional
Instructions
Preheat oven to 375 degrees

In a baking dish, put 1 tbsp. of oil to coat bottom of dish.

In a small bowl mix together, salt, pepper, dill and cheese.

Add bread crumbs and 2 tbsp. of oil. Mix well.

Put Salmon in dish and evenly pat mixture on top.

Bake uncovered for 17-20 minutes.

Remove from oven. Serve with tarter sauce, dill sauce, lemons or whatever you like. I like this with a mixed salad, rice, potatoes or pasta. Enjoy.
…The Backstory continues: 
My daughter makes a scrumptious Salmon teriyaki.  My son makes a delicious poached Salmon wrapped in tin foil. Me, I just "throw" a few ingredients  together  and plop it in the oven. Seventeen minutes later it's done. And I am ready to indulge. Hope you enjoy this dish as much as I do.
Please follow and like us: