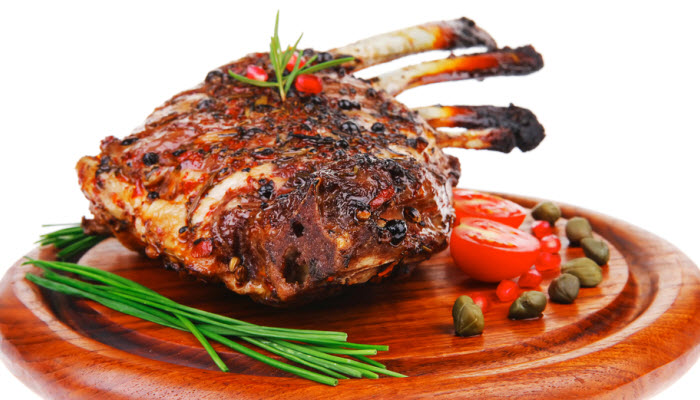 Kosher Standing Rib Roast
The Backstory: I had never cooked a good, or for that matter, a standard roast beef that was edible. It was either too well done or under cooked.  When it was over cooked I would tell my hubby "let's have something light" for dinner.  Usually, that meant eggs. When it was under cooked I would slice the beef and put it back in the oven to finish cooking. Big mistake.  Trying to cook the beef correctly was always a problem. Also, sometimes it was too rubbery. I gave up. I tried every cut of beef.  I was done. Or so I thought. I would cut out recipes from magazines or newspapers on how to cook a Standing Rib Roast.  I did not have the nerve to kill another piece of beef. More of the Backstory after the recipe…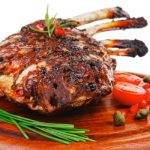 Standing Rib Roast
"The most elegant of meats to grace your table." I read that somewhere. And it's true. It is also known as Royalty of Beefs. It is cooked with very little seasoning. This scrumptious finger-licking rib bones are just delectable. I can't say another word about it. It stands alone.
Total Time
2
hours
15
minutes
Ingredients
4

bones

Kosher Standing rib roast

1-2

tbsp.

canola or vegetable oil

no olive oil

1/2

tsp.

pepper

1/2

tsp.

garlic powder
Instructions
Take meat out of refrigerator and let stand 1 1/2 -2 hours Meat must be at room temperature. Put oven rack on middle shelf.

Preheat oven to 425 degrees.

Wipe meat with paper towels to remove any moisture.

Combine pepper and garlic powder. Rub all over the meat. Do not use salt as salt tends to bring out the moisture of the beef.

Some oil should be brushed on the ends only. Reserve the rest of the oil. Aluminum foil can be put on the rib bones to keep them from burning.

Place in deep roasting pan. Put in oven.

Bake for 45 minutes. Lower oven temperature to 350 degrees.

Bake for a total of 2 1/2 hours. Basting every 15-20 minutes with pan juices. If needed brush sides with oil.

Check for desired internal temperature, using a meat thermometer. 125 degrees for medium rare, 145 for medium, 160 for well done. Roast will continue to cook while it is "resting"

Remove from oven and tent with aluminum foil. The roast should rest for about 15 minutes before carving.
Recipe Notes
Do not use any salt in this recipe as salt tends to bring out the moisture of the beef.
…The Backstory continues: The years went by and I was tired of the same old meat standbys.  Looking over my stash of recipes, which were yellow with age or ripped apart, I combined a few rib roast recipe  until I felt I had an edible and tasty one. The variations were  low temperature or high temperature.  It was time to beat my fear of beef! I am using the higher oven setting on this fabulous-looking and tasty cut of meat with excellent results, and finally, I've found success. You will too.
Please follow and like us: