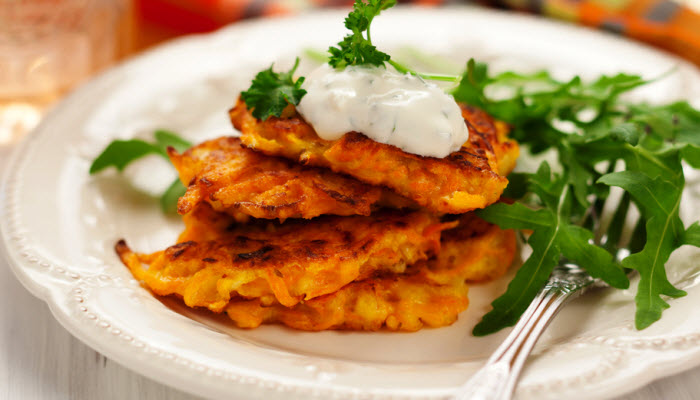 Sweet carrots, almonds, nutmeg and vanilla create autumn-inspired carrot latkes that are just too good be true!
The Backstory: I don't know where I got this Carrot Latke recipe. All I know is that any kind of latkes has to be good. But first things first: I grew up calling these delicious pancakes latkas. With an a, not an e. Is that a New York thing? I don't know. But I digress. In any case, this twist on the usual potato latke is sometimes met with a surprise look  from people when I serve them. But they disappear as fast as I could get them to the table. And besides they are fried. I love fried foods. Who doesn't? Fried foods and chocolate are tied for first place on foods I enjoy eating. So there, Food Police. Enjoying what I call the good stuff in moderation is not going to kill you. Now back to the latkes. More of the Backstory after the recipe…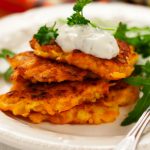 Carrot Latkes
Another one of my carrot dishes. And this one is so outrageous that I can hardly wait for them to be done. Of course as the cook, lets face it the first or second latkes belongs to me. Frying is oh so good. The nuts, even though they are grated add a bit of the unexpected. The sweetness on the plate of latkes with applesauce is the topper to your taste buds.
Ingredients
4

large carrots, peeled and grated

1/2

cups

blanched and grated almonds

2

large eggs, beaten

2

tbsp.

sugar

1/2 +

cup

all-purpose flour

1/4

tsp.

ground nutmeg

or fresh grated nutmeg to taste

1/2

tsp.

vanilla extract

canola or vegetable oil

for frying

applesauce

serve along side finished latkes

sour cream

optional
Instructions
Mix carrots, almonds, eggs, flour, sugar nutmeg, and vanilla in a medium bowl.

Heat oil in large frying pan on medium heat.

Drop batter by the tablespoon in hot oil and flatten with the back of a spoon. Fry each latke for about 3-4 minutes and turn for another 3-4 minutes

Test one, to make sure they are done. Drain latkes on a wire rack. Put paper towels under the wire rack to catch the excess oil. This method will keep the latkes from getting soggy. Serve with applesauce or sour cream.
…The Backstory continues: Using carrots in cooking had become, a job of sorts for me. I  found some recipes in magazines, newspapers or just by  asking my gal friends for carrot recipes over the years. Most of them are delicious.  My hubby who loved carrots and would eat it in many ways, usually asked for these. The latkes can be made without nuts, or another kind of nut can be substituted. I serve this with applesauce, but sour cream also can be another way to serve them. The latkes can be served as an appetizer or with meat, fish, chicken or as an hors d'oeuvres. These can be made ahead and reheated in a 200 degree oven. Enjoy these delicious, tasty Carrot Latkes. I know that hubby and I did. Hopefully you and your family and guests will too.
Please follow and like us: