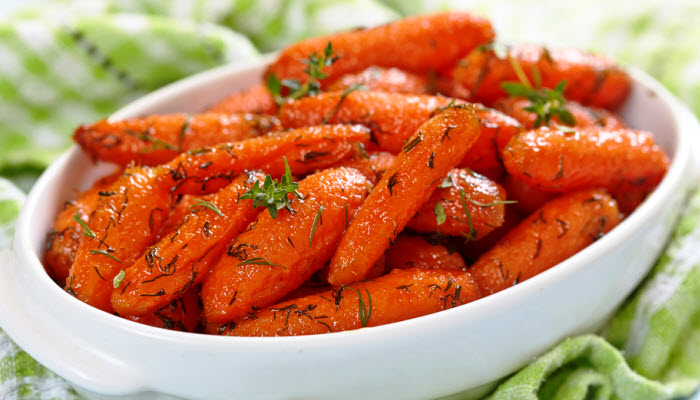 These fork tender carrots are the perfect side for the holidays–sweet, colorful, and packed with flavor (and nutrients). They are always on my Rosh Hashanah table as a symbol of a sweet New Year!
The Backstory: When I see the word "carrots" I am reminded of my childhood. I grew up in a home where my mom served veggies out of cans. This was the norm. Also mom, (sorry about  "ragging" on you ) but let's face it. We had carrots or peas or carrots and peas. Canned corn was either creamed or what was known as niblets. I am also guilty of serving canned carrots to my family. The packages of frozen ones were usually rubbery. Why I didn't think of using fresh, I don't know. It took me decades to change. My kids (oops, my adult children) will tell you I don't like change. No, maybe it was just easier. Or perhaps I was just plain lazy. More of the Backstory after the recipe…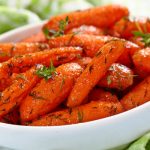 Honey Roasted Carrots
Carrots are used so often in cooking. And it is not surprising. They add sweetness to any meal. This recipe is so basic that even if you are a new cook, this recipe is foolproof. Sweet with a touch of savory from the parsley, it will literary melt in your mouth.
Ingredients
8

large carrots, or one bag baby carrots

if using large carrots, peel (all) and cut into large chunks

3

tbsp.

oil

canola or olive oil

1/4 - 1/2

cup

honey

Kosher salt and pepper to taste

Fresh chopped parsley for garnish

optional
Instructions
Preheat oven to 350 degrees. Mix carrots with oil. Add honey, salt and pepper.

Put carrots on foil lined sheet pan in single layer. Bake for 45- 60 minutes. Check occasionally to make sure they are soft but not mushy.

Garnish with fresh parsley if desired.
…The Backstory continues: Lets face it: open the can, dump it into a dish and nuke it. But change I did. My hubby was the worst eater imaginable. Anything green was not an option. If I put something foreign (meaning green veggies) on the table, he would make a face and the kids would followed his lead.
So, here I am back to carrots and corn. Full circle. Now I only use fresh veggies. I have made boiled carrots with honey and some seasoning, sauteed with other veggies. I have even made Carrot Latkes. Get the picture? Who knew that carrots could taste so good and what a variety of ways to use them. The carrots here are easy to make and oh so sweet and tasty. A real crowd pleaser. Line a sheet pan and cleanup is a breeze.
Please follow and like us: