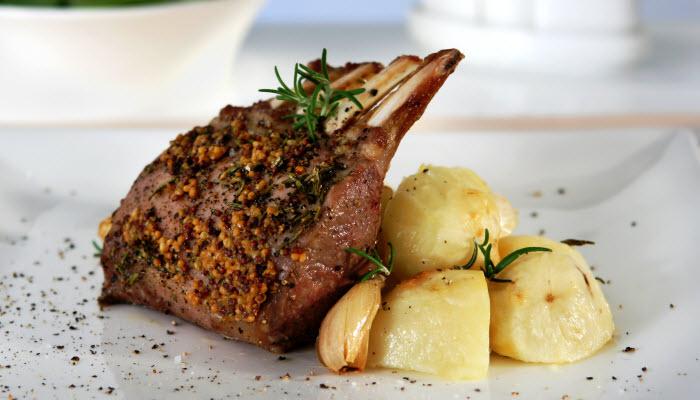 The Backstory: When it comes to Rack of Lamb, it can be said that this is one of the most tasty, elegant dishes you can serve. I was raised on meat and potatoes. Mom made lamb chops occasionally.  It was not the baby chops. it was the kind that I think they called shoulder chops. Either way they were delicious. I loved to suck the bones when I had eaten all the meat. More of the Backstory after the recipe…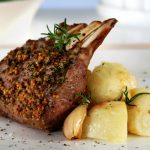 Rack of Lamb
Rack of Lamb is one of the most succulent meats you will ever make. It is so juicy and the seasonings give it a delectable flavor. Perfect for a special event, your family and guests will want to be invited back.
Ingredients
2

7 bone

Kosher rack of lamb

2-3

tbsp.

oil

3/4 - 1

cup

plain dried bread crumbs

1

tbsp.

mustard

1/2

tsp.

garlic powder

1

tbsp.

dried rosemary

or thyme

1

tsp.

Kosher salt

1/2

tsp.

pepper
Instructions
Move oven rack to center of oven. Preheat oven to 425

Heat oil in small saucepan over medium heat. Brown bread crumbs. Remove from heat and cool.

Add mustard, garlic powder, dried rosemary, salt and pepper into bread crumb mixture and combine well.

Place Racks of Lamb into a shallow baking dish. Brush mixture on lamb. You can wrap the bones with a small amount of aluminum foil.

Bake for about 15 minutes for med/rare. Can be cooked more for your desired taste.

When done, remove from oven and tent with foil. Let rest for 10 minutes before slicing.

I serve 3 lamb chops (or racks) per person.
…The Backstory continues: My hubby said that the only meat he ever ate at home were the baby  chops. Unfortunately he never suck the meat off the bone. He didn't know what he missed. I doubt if any meat bones ever went into the trash at my parents house that had a drop of meat left on it. I am a "meat loving" gal. This dish is easy to make and  looks so fancy to serve. My hubby asked me not to make him chops when we first got married. He said that was the only meat his mom made.  He liked the meat, but he could not tolerate the aroma of the chops. And being a good wife, I never made them when he was home. Boy, what he missed out on.
Please follow and like us: