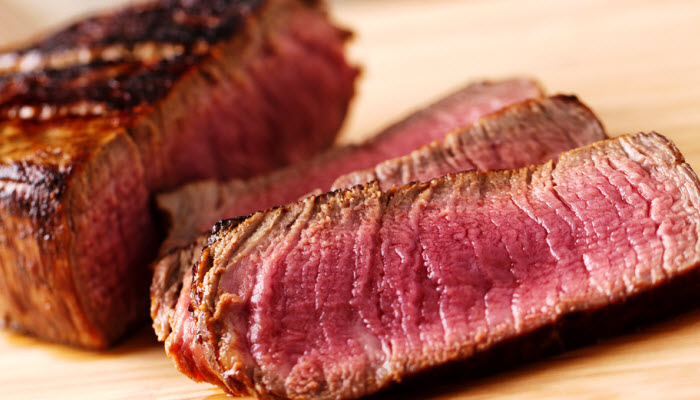 The Backstory: Most of the meals I prepare are basic family dinners.  But when I really want to "put on the dogs" (old fashion saying)  for guests,  I make several different main course  meat dishes. More of the Backstory after the recipe…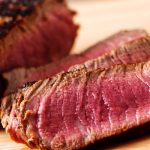 Beef Tenderloin
As beautiful as this beef looks, it taste even better. Cooked with few ingredients, the beef flavors shine through. No hiding different seasonings. The natural flavors can stand alone and is as tender as its name.
Ingredients
3

lbs.

Kosher Beef tenderloin

1-2

tbsp.

oil

1

tsp.

Kosher salt

1

tsp.

pepper
Instructions
Lower oven rack to the center and preheat oven to 400 degrees.

Combine, oil, salt, and pepper and coat mixture all over beef.

Put beef into oven proof large skillet. On top of stove, brown beef on all sides, for about 5+ minutes.

Place skillet in oven, insert a meat thermometer in center of beef.

Bake for 25 minutes. Temperature on thermometer should reach 125 degrees for medium rare. Roast longer if you prefer medium or well done.

Remove beef from oven and tent with foil.

Let rest 10-15 minutes. Carve into 1 or 1 1/2 inches slices and serve.
…The Backstory continues: For the beef lovers out there, here is one of the fanciest dished I make.  This Beef Tenderloin is made for special occasions and I will only serve it to beef-eating lovers. Keep the PC food critics out of my kitchen!!!!!!!!!!!!
This is so easy, and yet when this Beef Tenderloin is sliced and served with your favorite sides, it will seem to guests that you spent hours slaving away in the kitchen. I like to accompany this with rosemary roasted potatoes and green beans with slivered almonds.  I do not know were I got this recipe from. I have several ones like this and I combined a little bit from each recipe to create this one.  When I serve this Beef Tenderloin, I really "put on the dogs". Out comes the company China, best siverware, top of the line serving pieces.  Of course flowers as a centerpiece and  a great wine to complete the staging. Now is the time to bring out the star of the meal. My perfectly cooked Beef Tenderloin. I hope you will  try this and enjoy  it as much as everyone who I served this to has.  Gosh, I'm getting hungry thinking about this. Time to invite beef lovers to dinner.  Enjoy
Please follow and like us: