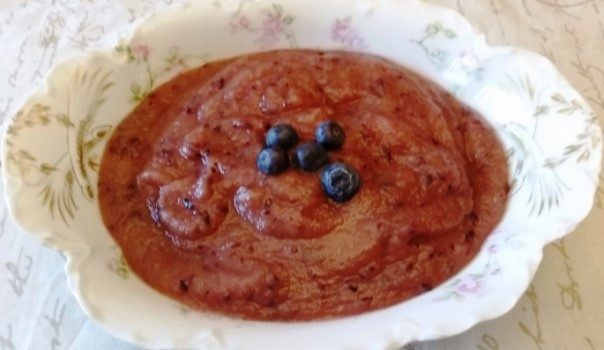 The Backstory: Blueberry applesauce is about as easy a recipe you can make, yet it packs a delicious and surprising kick. Sweet blueberries make this side dish absolutely gorgeous to look at (I mean, when did anyone ever get all that worked about about applesauce?), and even better to eat. More of the Backstory after the recipe…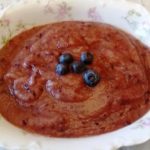 Blueberry Applesauce
Fresh blueberries give this classic side a little surprise kick. Serve with latkes, blintzes, or on its own. A perfect snack for kids, tucked in a lunch box, or as an after school snack.
Ingredients
6

apples

large, mixed variety

I use green, reds, but prefer not to use Macintosh

1

heaping cup

fresh blueberries

1

tsp.

ground cinnamon

1 1/2

tsp.

sugar

1

cup

reserved cooking liquid from apples

hold aside before you drain apples
Instructions
Fill a medium or large saucepan three-quarters with water and boil.

While water is boiling, remove stems from apples, wash and peel them. Either remove cores or simply cut around them, cutting apples into large chunks. Set aside.

When water boils, add apples and lower heat slightly. Let apples cook for 7-10 minutes, stirring occasionally until apples are fork tender but not mushy.

Before draining apples in colander, reserve 1 cup of the cooking liquid. Drain apples well. Place in food processor. If your food processor is small, process in batches.

Process apples, slowly adding cooking liquid until you have the consistency of applesauce. Sauce should be smooth but not thin and liquid. Add blueberries and process again.

Add sugar and cinnamon. Taste and add more liquid, sugar, or cinnamon if desired. Let cool.
Recipe Notes
Before you serve, the top layer the apple sauce may seem firm. Simply stir the applesauce well before serving and you will have a perfect consistency. Enjoy!
…The Backstory continues: I've been making homemade applesauce for my son, Morgan, since he was about four months old. As I wrote in my previous cinnamon applesauce recipe, something about becoming a mom after 40, put me in a very nesting mood, and all of a sudden, I found myself doing things I honestly never considered before. Crafts. Homemade baby food. Seriously, I think my own mother didn't recognize me for awhile, but truth be told, having a baby at a later age, and not by design, but because it just happened that way, made me appreciate every silly and wonderful thing that came along with being a mom. Like applesauce and feeding a newborn.
And so I started experimenting. I went through a homemade butternut squash baby food phase and there was the baby sweet potato whip, but now that my son is nine, one of the things he still asks for (and something I just made yesterday), is blueberry applesauce. It only takes about 15-20 minutes to put a smile on his face and make me remember those early days. I'd say that's good enough reason to keep making it.
Try serving this with Latkes at Chanukah for a new twist or with blintzes or Challah French Toast at your next Sunday brunch.
Please follow and like us: