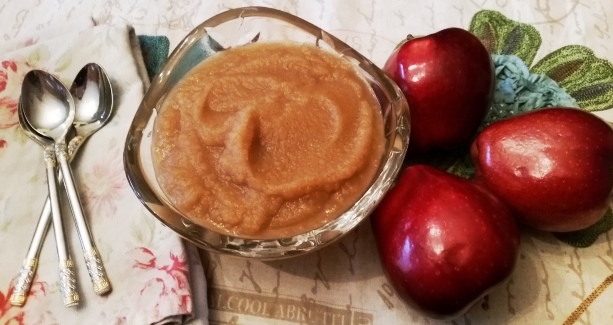 The Backstory: When my son was just a few months old, I started to make a lot of his baby foods from scratch. I'm not sure why–I wasn't on the organic/homemade-is-best bandwagon, but I became a mother late in life (42) and doing little things like making simple foods for him became such a joy to me. More of the Backstory after the recipe…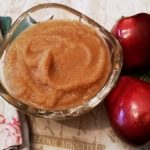 Cinnamon Applesauce
The sweet and crisp flavors mixed apples and the spicy tang of cinnamon combine to make a simple, delicious and foolproof applesauce. Perfect for latkes, on its own and as gift.
Ingredients
6

apples

large, mixed variety

I use green, reds, but prefer not to use Macintosh

1

tsp.

ground cinnamon

1 1/2

tsp.

sugar

1

cup

reserved cooking liquid from apples

hold aside before you drain apples
Instructions
Fill a medium or large saucepan three-quarters with water and boil.

While water is boiling, remove stems from apples, wash and peel them. Either remove cores or simply cut around them, cutting apples into large chunks. Set aside.

When water boils, add apples and lower heat slightly. Let apples cook for 7-10 minutes, stirring occasionally until apples are fork tender but not mushy.

Before draining apples in colander, reserve 1 cup of the cooking liquid. Drain apples well. Place in food processor. If your food processor is small, process in batches.

Process apples, slowly adding cooking liquid until you have the consistency of applesauce. Sauce should be smooth but not thin and liquid. Add sugar and cinnamon. Taste and add more liquid, sugar, or cinnamon if desired. Let cool.
Recipe Notes
Before you serve, the top layer the apple sauce may seem firm. Simply stir the applesauce well before serving and you will have a perfect consistency. Enjoy!
…The Backstory continues: I know it sounds corny, but to this day, (he's 9 now), whenever he asks for cinnamon applesauce, my heart melts. Which is why I still make it for him. I also make another version of this recipe with blueberries, which couldn't be any easier as it literally calls for the addition of heaping cup of blueberries while the mixture is in the food processor. No heavy lifting there.
Growing up, applesauce was a staple at my table. My father adored it and ate it all the time, almost as a side dish. Now, no offense to mom, but after making the real thing, the jar variety–and plenty of them are delish–don't quite cut it anymore. Applesauce always turns up, of course, at Chanukah, as a an accompaniment to latkes, and apples are a reminder of the abundance of fall and the sweetness of our High Holy Days.
If you really want to make someone's day, take the 20 minutes–that's all it takes–to whip up a jar of homemade cinnamon applesauce or blueberry applesauce. Pour it into a decorative jar, tie a ribbon on and attach the recipe. Someone will love you for this sweet, homemade reminder of childhood.
Please follow and like us: