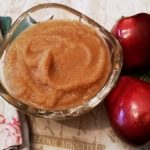 Cinnamon Applesauce
The sweet and crisp flavors mixed apples and the spicy tang of cinnamon combine to make a simple, delicious and foolproof applesauce. Perfect for latkes, on its own and as gift.
6

apples

large, mixed variety

I use green, reds, but prefer not to use Macintosh

1

tsp.

ground cinnamon

1 1/2

tsp.

sugar

1

cup

reserved cooking liquid from apples

hold aside before you drain apples
Fill a medium or large saucepan three-quarters with water and boil.

While water is boiling, remove stems from apples, wash and peel them. Either remove cores or simply cut around them, cutting apples into large chunks. Set aside.

When water boils, add apples and lower heat slightly. Let apples cook for 7-10 minutes, stirring occasionally until apples are fork tender but not mushy.

Before draining apples in colander, reserve 1 cup of the cooking liquid. Drain apples well. Place in food processor. If your food processor is small, process in batches.

Process apples, slowly adding cooking liquid until you have the consistency of applesauce. Sauce should be smooth but not thin and liquid. Add sugar and cinnamon. Taste and add more liquid, sugar, or cinnamon if desired. Let cool.
Before you serve, the top layer the apple sauce may seem firm. Simply stir the applesauce well before serving and you will have a perfect consistency. Enjoy!