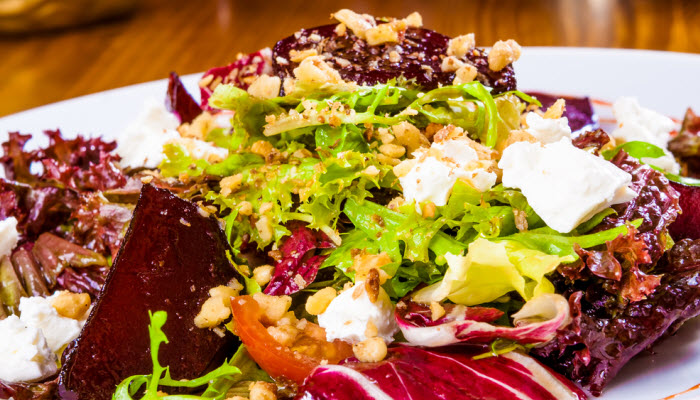 Beet Salad with Goat Cheese and Nuts
Our beet salad with goat cheese and nuts is everything: sweet, tangy, creamy, and crunchy. Add chicken to make this a full lunch or dinner and some fresh bread and you'll find yourself making this meal over and over again.
The Backstory: True Confession: I've never been a fan of beets, however our beet salad with goat cheese and nuts is a game changer. I have still visions of my grandfather gulping down a glass of borscht, smacking his lips together with a very satisfied "Aaahhh" and even though that happened almost 40 years ago, that just about did it for me and the lovely, beautifully-hued beet. More of the Backstory after the recipe…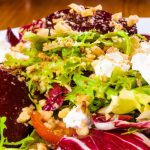 Beet Salad with Goat Cheese and Nuts
This sweet and zesty salad is a refreshing first course and is full of delicious flavors and textures. Add grilled chicken to make this a satisfying lunch or dinner.
Ingredients
4

medium beets, cleaned, trimmed, cut in half

1/2

cup

chopped plain or candied walnuts

4

ounces, crumbled goat cheese

1/4

cup

balsamic vinegar

1/4

cup

olive oil

1/2

tsp.

Kosher salt

1/4

tsp.

freshly ground black pepper

1

tsp.

Dijon mustard

2

tbsp.

orange juice or juice from 1/2 an orange

4

cups

salad greens of your choice

1

(optional)

large orange, peeled, segmented, skins removed from segments

or 1/2 cup Mandarin oranges
Instructions
Put beets into a medium saucepan and cover them with water. Bring to a boil and cook for 20-30 minutes until tender. Drain and cool. Cut into cubes or thick slices and set aside.

In a small bowl, whisk together the oil, vinegar, mustard, orange juice, salt and pepper. Check for seasonings and adjust if necessary.

Add dressing to salad greens and toss. Add nuts and beets and gently toss. Arrange on two plates. If using orange segments, add those once you've plated the rest of the salad and serve. Sprinkle with additional nuts if desired.
…The Backstory continues: Fast forward to 2003. I was at a business dinner where a very aggressive and know-it-all executive decided to do all the ordering for everyone at the table and suddenly, I, (along with the other guests) kind of had to sit there and say, "Gee, thanks" while dishes were passed around and assorted things were plopped onto my plate.
I looked down and there was a generous pile of beet salad staring right at me. Well, I do have my manners, so I graciously (and with some trepidation) picked up a fork.
The refreshing, tender, juicy, melt-in-your-mouth beets were so delicious, I nearly wept. They were cold–not icy, but colder than I expected, and for some reason, this made a wonderful difference. They were paired up with even crunchy almonds. To top that off, there was crumbled goat cheese and at that, I was a goner.
And so I give to you, my re-created version of that beautiful salad. Weep to your heart's content. This is a thing of beauty.
P.S. I've since made this salad many times. You can add fresh orange segments for a citrusy kick or even Mandarin oranges if you like.
Please follow and like us: