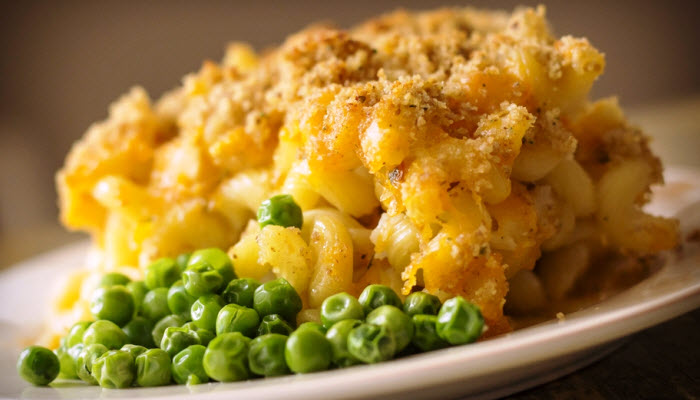 The ultimate in creamy comfort food–there won't be a spoonful left!
The Backstory: There's mac and cheese and then there's mac and cheese. This recipe is the latter. This is one of those dishes that's not just for grown ups: this is the real thing. This recipe calls for a buttered bread topping which bakes for the entire time the casserole is in the oven (about 30 minutes). It is absolutely delicious and adds a truly decadent touch to this already over-the-top dish. You can use good white bread or any bread you have on hand, but unseeded, plain or egg bread is best. If you have any leftover Challah, even better. More of the Backstory after the recipe…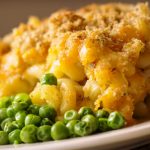 Macaroni and Cheese
Rich, creamy, tangy, savory, and crunchy on top to boot, this is a one-dish wonder that is just about as perfect as perfect can be. Kids (big and small) will love this mac and cheese and will never be able to eat the boxed stuff again.
Ingredients
8

tbsp.

butter or margarine (plus more to grease the casserole)

6

slices white bread torn into 1/2 inch pieces

5 1/2

cups

milk

1/2

cup

all-purpose flour

2

tsp.

Kosher salt, plus more for water

1/4

tsp.

nutmeg

1/4

tsp.

freshly ground black pepper

1/4

tsp.

cayenne pepper

4 1/2

cups

grated orange or white Sharp Cheddar cheese

2

cups

grated Gruyere

(or white Cheddar)

1

lb.

elbow macaroni
Instructions
Preheat oven to 375 degrees. Butter a 3 quart casserole dish and set aside. Tear bread into 1/2 inch pieces. Place in medium bowl and add 2 tbsp. melted butter. Toss with bread and set aside.

In a medium saucepan over medium heat, warm up the milk. Melt the remaining butter in a large, high-sided skillet over medium heat. When the butter bubbles, add the flour. Cook the flour and butter, whisking constantly, for 1 minute. While whisking the flour, add the hot milk, a little at a time to make the mixture smooth. Continue to mix and cook, whisking constantly until the mixture begins to bubble and thicken, approximately 10-12 minutes. This may take a little longer, but be patient.

Remove the pan from the heat and stir in the salt, black pepper, cayenne pepper, nutmeg, 3 cups of cheddar and 1 cup of Gruyere. Mix well and set aside.

Bring a large pot of salted water to a boil. Cook the elbow macaroni for 3 minutes. It will be under-cooked. Drain the pasta and rinse it under cold water to stop the cooking. Add the pasta to the cheese sauce and mix well.

Pour mixture into prepared casserole dish. Sprinkle the remaining Cheddar and Grueyere over top. Add the buttered bread pieces and put them all over the top of the cheese. Bake for 25-30 minutes until golden brown.
…The Backstory continues: This recipe was given to me by my friend Carla Tinebro, when I lived in Chicago, somewhere around 1996 or 1997. Carla is one of my true best friends in life. You know how people say they can count their real friends on one hand? Carla is that kind of friend. She is the person you can call at 4 a.m. who says "Just tell me where you are" (not that this has ever happened, of course) without hesitation.
She and I hosted some pretty legendary cocktail parties in my tiny, one-bedroom, Chicago apartment, back in the mid-90s. I think my kitchen was about 100 square feet. Maybe. My KitchenAid would be teetering on the edge of my sink, the oven door would be open, champagne buckets on the tiny perch of counter space, and we would be going full tilt, sometimes feeding 50-75 guests in an evening. I remember one night, after we did a fancy Mexican theme (I had just devoured a Rick Bayless cookbook and was going through a south of the border period, LOL.) We made seafood enchiladas, tortas, guacamole, and flautas for about 50 people. Not to mention the fact that I had to make these custard desserts that baked inside mini pumpkins. Of course.
I cannot begin to tell you the war zone that my kitchen resembled when everyone stumbled out. But we fed everyone and everyone was happy. We did this so often and people I didn't even know used to show up for these little soirees, bringing champagne and wine and kissing us goodbye when they left. Our little parties became a thing in our circle and the more people who showed up, the happier I was. I simply loved to cook and serve and cook and serve. Every party was something of a mish-mosh: different cuisines, champagnes, whatever I was inspired to cook, but it was an outlet for me and I lived to plan the menus, shop for ingredients, and cook on those weekends.
But back to the mac and cheese. When you taste this recipe, you too, will understand why Carla is such a talented cook and such a cherished friend.
P.S. I should mention: Carla is 100% Italian and a lover of all things Jewish-schmaltzy. She adores when my mother breaks out in her crazy Brooklyn/Yiddish expressions that only make sense to others who've grown up around this crazy language (and crazy mother). Sometimes she calls so I can "do Myrna" for her (you've seen my mother's recipes on the site, so you've read her stories that accompany the recipes). I just thought this was important color commentary to share. It should only endear her to you even more.
Please follow and like us: