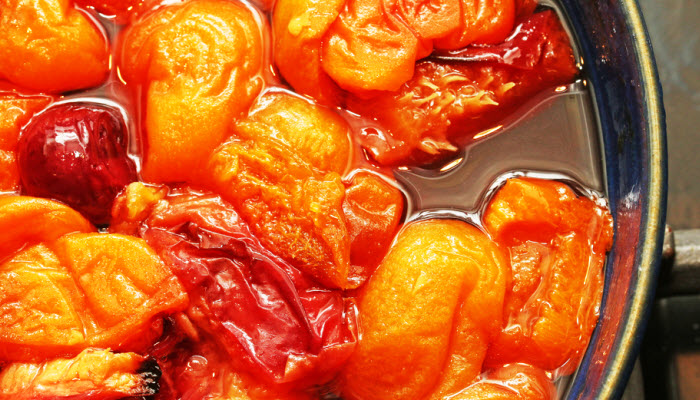 Stewed Apricots, Plums and Cherries
These are not your bubbie's prunes–they are sweeter and absolutely delicious!
The Backstory: I have a clear and fond memory of my grandparents at their kitchen table in Brooklyn, and my grandmother serving stewed fruit to my grandfather from a large serving bowl. I remember other people at the table laughing, at how my grandmother always managed to serve him exactly seven prunes, each and every time she scooped some into his bowl. As a child I found this to be absolutely miraculous–how could she possibly (magically) manage to get the exact same number of prunes in his bowl each and every time? And I remember waiting to see what would happen the next time we all happened to be at the table, and my grandmother appeared with her tureen of stewed fruit. I would hold my breath in anticipation, waiting for that lucky seven prune to land in the bowl.  More of the Backstory after the recipe…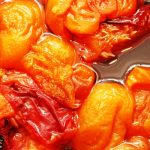 Stewed Apricots, Plums and Cherries
Sweet, ripe fruit is simmered in water, brown sugar, and cinnamon to bring out its rich, lush flavors. The stewed fruit is perfect on its own as a snack or served with ice cream as an extra indulgent treat.
Ingredients
4

apricots, pitted and halved

4

plums, pitted, and quartered

1

pint

Bing cherries, stems removed and pitted

1 1/4

cup

brown sugar

3

cups

water

juice of 1/2 a lemon

juice of 1 orange

1

cinnamon stick
Instructions
In a large pot, bring water to a boil. Add sugar, then boil for another 5 minutes. Add plums, apricots, cherries, orange juice, lemon juice and cinnamon stick and boil for an additional 5 minutes. Let cool to room temperature and serve.
…The Backstory continues: When I made my first batch of tzimmes for Passover, I was reminded of that little game they played, and how cleverly my grandmother hammed it up for my benefit. It never dawned on me, all those years, how they were all in on the gag, and I was completely fooled by it.
Years later, while I could never quite get into stewed prunes (although I do love prunes right out of the bag or box), I happen to love this recipe for stewed apricots, cherries and plums. It's a little less sweet than the prunes and it's really lovely to look at in a serving bowl. The colors are just gorgeous–all golden, red, and yellow.
This is delicious on its own and perfect as an accompaniment to vanilla frozen yogurt or ice cream, if you're feeling especially indulgent. It's also wonderful with a few slivered almond sprinkled over the top.
Please follow and like us: