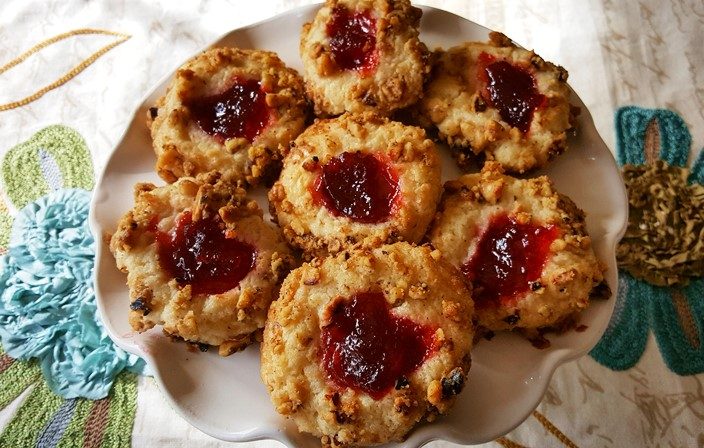 Raspberry Thumbprint Cookies
Inspired by my favorite German baker, our Raspberry Thumbprint Cookies are buttery, nutty, and filled with a sweet berry center that will brighten up a holiday buffet table or any dessert tray. Gorgeous as a holiday gift!
The Backstory: The first time I tasted Raspberry Thumbprint Cookies was over the winter break of my junior year at Boston University. I was at the home of my late college friend Dineen Mancuso, spending Christmas with her and her family in Pamona, N.Y. Her German-born grandmother, affectionately known by all as Oma, was truly a master baker. Back then (1985), she seemed to be about 80 years old in her buttoned-up blouses and eyelet cardigans, but was likely much younger than her stern demeanor implied. She was a matriarch could wither you with an admonishing look in your direction and them completely redeem herself in seconds with one of her warm hugs and a plate of her signature cookies. More of the Backstory after the recipe…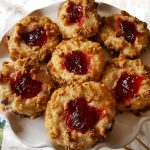 Raspberry Thumbprint Cookies
Buttery raspberry thumbprint cookies are rolled in chopped walnuts for an extra crunchy kick (as if they need more goodness) and have a sweet and tart center that puts them over the edge.
Total Time
1
hour
30
minutes
Ingredients
1

cup

(2 sticks) unsalted butter at room temperature

2/3

cup

sugar

1/2

tsp.

pure vanilla extract

1/4

tsp.

Few gratings of fresh lemon zest

2

cups

all-purpose flour

1/4

tsp.

Kosher salt

1

egg

large egg beaten

1

cup

chopped walnuts or any nut you prefer

raspberry jam, or any jam you prefer
Instructions
Preheat oven to 350 degrees. Line 2 baking sheets with silicon baking mats.

Cream together the butter and sugar on medium speed with a hand held mixer, or in the bowl of an electric mixer until light and fluffy. Add vanilla and lemon zest.

In a medium bowl, combine flour and salt.

Add dry ingredients slowly into butter mixture and combine. Do not overmix.

Dump batter onto flour counter and flatten into a disk. Wrap with plastic wrap and refrigerate for 60 minutes.

Beat the egg in a medium bowl and set aside. Place the chopped walnuts in a separate medium bowl. Roll the batter into small balls and dip each one first into the beaten egg, letting the excess drip off, and then rolling each cookie in the chopped walnuts.

Place the cookies on the cookie sheet about 2 inches apart. I typically get about 14-16 cookies per large sheet. Use the tip of your finger to make an impression/indentation in the center of each cookie and fill with 1/4 tsp. of jam.

Bake for 15-16. Watch the cookies to make sure they don't burn. If you like them a little crisp, bake for up to 17 minutes, but watch them carefully.

Cool on wire rack...dust with Confectioner's sugar if desired.
…The Backstory continues: At every Christmas holiday I spent with Dinner and her family (and there were many), for weeks beforehand, I eagerly anticipated what I knew would be laid out on the Mancuso family buffet: trays of Oma's Vannilekipferin (a delicate vanilla-laced crescent cookie), Pfeffernuss,(traditional dome-shaped confectionery wonders made with honey, cloves and allspice), Lebkuchen, a classic German gingerbread cookie (which Oma would ice to perfection), and surprisingly, a little cookie that resembled traditional Raspberry Thumbprint Cookies and had had a delicious berry center (it may have been blackberry) but was rolled in crushed walnuts. Just thinking about these cookies brings to mind the smell of the fall spices and powdered sugar and that crackle of molasses or whatever it was that made those Kebkuchen so addicting. Ten pounds, I tell you–I gained at least 10 pounds during those vacation weeks. But I digress.
Every year when I saw this parade of baked goods, I would marvel at Oma's artistry and try to pry the recipes out of her. And Oma, who could speak English perfectly well, would simply smile, respond to me in a mix of German and English (the only time she ever spoke to me in German, considering she knew I didn't speak it) and hand me another cookie. Thus began my love affair with Oma, and her German-version of the thumbprint, which I could never find anywhere else.
This recipe below is not Oma's and the recipe unfortunately, is nowhere to be found. As my darling friend Dineen passed away in 1998 at the age of 33, and painfully, before the death of her grandmother, the recipe has not been shared. I however, I can remember the many times we laughed over those holiday breaks, our years at BU (what happens at BU, stays at BU), and have more than enough memories to last a lifetime. A favorite photo of Dineen and yours truly sits in my office at BU.
But these little cookies are truly delicious, worthy of any dessert buffet, or any time you need a buttery, raspberry, walnuty-indulgence of your own. Enjoy.
Please follow and like us: