Apple Potato Latke Shortcut
Sometimes there's no time for homemade latkes. Not to worry. Our Apple Potato Latke Shortcut serves up perfect latkes that taste just like the real thing in half the time!
The Backstory: I literally live for Shabbat and sometimes find myself thinking about what I'm going to cook for Friday night on Tuesday (and even some Mondays!). But on the weeks when I'm teaching at BU until Friday afternoon, I find that sometimes I really have to improvise (and let myself off the hook for a change) and find little shortcuts to create the kind of meal I know my family likes on Shabbat. Any my family (especially my youngest son and husband) love latkes. I mean love them. But when I'm fighting Boston traffic on a Friday afternoon and I've got dinner to make (usually roast chicken or flanken) and a million other things to get that perfect Shabbat meal going, grating potatoes and onions is just about the last thing I want to do on top of everything else. So this is where I cheat with my Apple Potato Latke Shortcut. More of the Backstory after the recipe…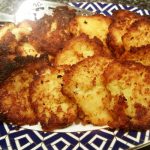 Apple Potato Latke Shortcut
Our Apple Potato Latke Shortcut tastes just like the real thing! Save time with this fabulous cheat and enjoy crispy latkes with a sweet and tart surprise, any night of the week.
Ingredients
1

6 oz.

package of Manischewitz Potato Pancake Mix

2

large eggs

2 1/4

cups

cold water

2

Granny Smith apples, medium, peeled and shredded

Vegetable oil for frying

applesauce (optional) for serving

sour cream (optional) for serving
Instructions
Take a large cookie sheet and line it with paper towels. Place a cookie cooling rack over it. Set aside.

Peel Granny Smith apples and cut into large chunks. Discard core. Place in food processor and process until pieces are small, about 1/4 inch. Set aside.

In a medium bowl, beat two eggs with a fork until well-blended. Add 2/14 cups cold water and mix well.

Stir in contents of Potato Pancake Mix package.

Add in shredded apples. Mix well. Allow batter to thicken for 3 to 4 minutes.

Heat vegetable oil in 1-2 large frying pans on medium-high heat. (I use two pans to be able to cook more at once.) Make sure oil is hot enough so that batter will sizzle when you add it. Test it by sprinkling in a TINY drop of water to see if it sizzles.

Drop a tablespoon or serving spoon (if you prefer larger latkes) into hot oil and brown on both sides. Place latke on cooling rack for a minute or two. Any excess oil will drop down onto the paper towels.

Arrange on a platter and serve with applesauce and sour cream while the latkes are still hot.
…The Backstory continues: I admit it: I sometimes use the packaged latke mix. Go ahead: sue me, judge me, shoot me, stand me up before the culinary police, whatever. I don't use it for the holidays and G-d knows, I've made so many scratch latkes in my day, I can't keep count, but if I have to give something up on Shabbat and it's a choice between baking dessert (which I typically do) such as flourless chocolate cookies or making latkes from scratch, we'll, I'm sorry, Mr. Latke, you lose. This time.
This is one time where I can tell you, a little improvisation is a good thing. I use a box of Kosher packaged potato pancake mix and two shredded Granny Smith apples (in the food processor) and the results are excellent. To be honest, the first time I made them this way, I was a little insulted that my youngest son Morgan (who is quite the foodie at the age of 11), didn't recognize the difference between my homemade latkes and the latke imposters. Then I thought better of it and kept my mouth shut. After all, if he doesn't realize that mom colors her hair, why should I blow the latke whistle on myself?
Exactly.
Plus, I've got enough guilt in my life already–I'm certainly not going to heap on anymore when these results are so good. Try this for yourself and see. Shabbat Shalom!
Please follow and like us: