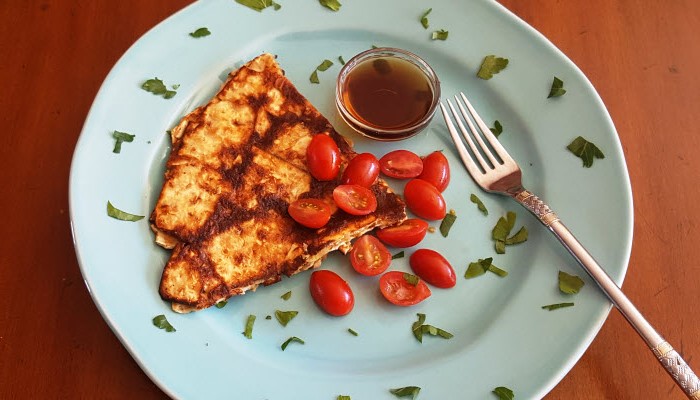 Fried Matzoh Brie Pancakes
Fried matzoh brie pancakes are a sweet (or savory) way to take ho-hum leftover matzoh to the next level. This is a delicious breakfast, brunch, or snack that takes minutes to make and adds zip to your usual matzoh routine.
The Backstory: Let's face it: after a while, matzoh can be a little, well, dry. Okay–bad joke. But the truth is, we've all had the same old recipes for years, and while they're delicious and traditional, every now and then, it's time to change things up. That's why there are times when it's just time to fry the matzoh. Yup: fry it. Our fried matzoh brie pancakes look a lot like a Chinese scallion pancake, and you can, in fact make it that way. The thing is, you have to decide before you make this (or while your doing it), if you want sweet or savory fried matzoh brie pancakes. The rest is just a matter of soaking the matzoh in milk, adding some eggs, and flipping in the pan. More of the Backstory after the recipe…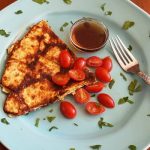 Fried Matzoh Brie Pancakes
Matzoh is coated in eggs and milk and then lightly fried to crisp perfection. Make it sweet and serve with berries or make it savory with caramelized onions and serve with salsa. Either way--matzoh brie is getting a delicious makeover!
Ingredients
5

boards

matzoh

1/2-3/4

cup

milk (any kind)

3

eggs

Kosher salt

freshly ground black pepper

unsalted butter

1/2 small onion (optional)

berries (optional)

grape tomatoes, sliced (optional)

maple syrup (optional)

chopped flat leaf parsley
Instructions
Break up matzoh into medium sized pieces and place into a shallow bowl. Cover with milk (you may need to add more milk to cover it). Move the matzoh around to make sure all of it gets wet. You do not want the matzoh to fall apart, just to soak in the milk for about 5 minutes. Drain well.

If you want to make a savory pancake, heat 1 tbsp. olive oil in small pan and saute the onions until caramelized, about 10 minutes. Set aside.

Heat about 1 tbsp. butter or margarine in a large skillet. When melted, turn heat to medium-high. While heating, beat 3 eggs and season with salt and pepper. (If you have decided to make a savory pancake, add the caramelized onions to the eggs). Add the drained matzoh to the egg mixture and pour everything into the skillet.

Use a spatula to press the matzo/egg mixture onto the bottom of the pan to fill up the entire pan to form a pancake. Let the pancake cook until brown on bottom side and then carefully cut into quarters. Remove one quarter of the pancake with a spatula and put a small pat of butter on the skillet to melt before flipping over. Then flip so the other side can cook. Repeat with all pieces of the pancake.

Plate as desired and garnish with fresh berries and syrup, or fresh tomatoes, chopped parsley, and either salsa or warm maple syrup. Enjoy!
…The Backstory continues: If you want yours to be savory, you'd just sautee up some onions, let them caramelize, and add them to the frying pan when you add the egg and matzoh combination. When I make mine with caramelized onions, I often serve it with salsa on the side. If you're more of a sweet kind of guy/gal, leave off the onions, and serve your pancake with warmed maple syrup (shown above) and either sliced berries, or sweet tomatoes (shown here) for that sweet/savory thing that I happen to love almost more than life itself. The texture on this pancake it truly lovely–soft yet crisp, with just enough chew. You can cut this up into a lot of small pieces, but I like the presentation of a nice wedge with some fruit of fresh vegetables on the side. Either way, get out your skillet and a little butter or margarine and fry up a little matzoh. It's time to shake up Pesach!
P.S. After you cut the entire pancake into wedges, you can store the extras in the fridge for a day and then just reheat in a non-stick pan.
Please follow and like us: