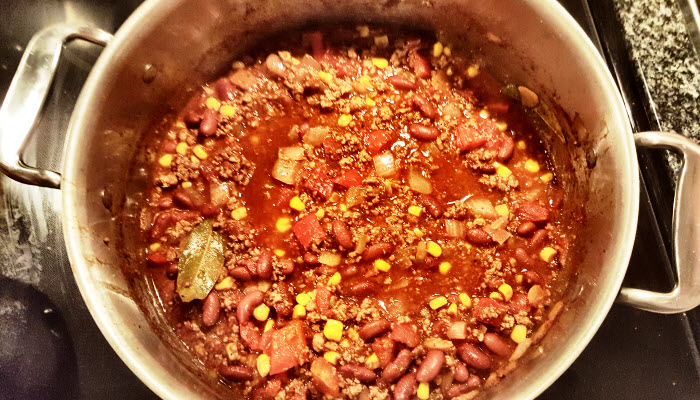 Satisfying, savory, hearty and delicious, our kosher turkey chili hits the spot when you're in need of some good-for-your comfort food. This one-pot meal cooks up in an hour and lasts for days.
The Backstory: Oh, how I love to make this dish on cool fall and winter days! The smell of the herbs and tomatoes going to work with the tomatoes and spices…don't even get me started! Our kosher turkey chili is truly a satisfying meal that that has that stick-to-your-ribs factor without making you want to take a nap after indulging in a bowl (or two) because it's made with lean ground turkey instead of traditional beef (as most chilis are prepared) and it's packed with wholesome ingredients–red beans, diced tomatoes, onions, garlic, fresh garden peppers, and herbs. What could be bad? More of the Backstory after the recipe…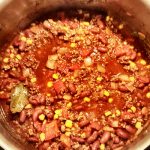 Kosher Turkey Chili
Our savory and hearty kosher turkey chili is as good as it gets when it comes to comfort food. Serve it up with some warm crusty bread and settle in for a cozy meal. Best of all? This recipe makes plenty of leftovers!
Total Time
1
hour
10
minutes
Ingredients
1

tbsp.

olive or vegetable oil

2

lbs.

ground turkey, white meat

2

cups

sweet white onion, medium dice

1

red, orange, or yellow pepper, medium dice

1

tbsp.

enveloped dried onion soup mix (1.4 oz packages each)

2

bay leaves

1/4

tsp.

ground cinnamon

3

tbsp.

chili sauce

2

tsp.

ground cumin

3

cups

canned diced tomatoes (Italian or other that you like)

3-4

tbsp.

tomato paste

1/2-3/4

cup

tomato puree

2

cups

chicken stock/broth, canned or homemade

1

15. oz. can small red kidney beans, drained

you can add more if you like a lot of beans

Kosher salt

freshly ground black pepper
Instructions
Heat the oil in a large, heavy pot on high heat. Add the ground turkey and use a spoon to break up the meat, to get rid of any large clumps. Cook until the meat is lightly browned, about 5-8 minutes.

Add the onions, garlic, pepper, oregano, cumin, chili powder, cinnamon, and bay leaves and mix together with the meat. Cook for 5-10 minutes until fragrant.

Add the tomatoes, tomato paste, chicken broth, and season with salt and pepper. Add the tomato puree (first add 1/2 cup), to thicken the mixture a little at a time. If you it a little thicker, add another 1/4 cup. (I usually add 3/4 cup total tomato puree). Combine everything well and bring to a boil. Reduce heat and simmer, stirring occasionally for 45 minutes.

After 45 minutes, add the drained beans and stir to combine and cook for another 15 minutes.
…The Backstory continues: What makes this dish a real winner in my house is that it last for days: one pot of kosher turkey chili works for dinner one night, lunch another, and even as a dip or lavash wrap filling a few days later with a pile of crisp lettuce and tomatoes. It's extremely versatile and I feel good giving it to my kids, knowing I'm getting some veggies into them along with lean healthy protein.
The preparation below follows kosher dietary rules, but if you not follow Kashrut, feel free to jazz this up with a garnish of low-fat cheddar cheese and/or a dollop of light sour cream. Enjoy!
Please follow and like us: