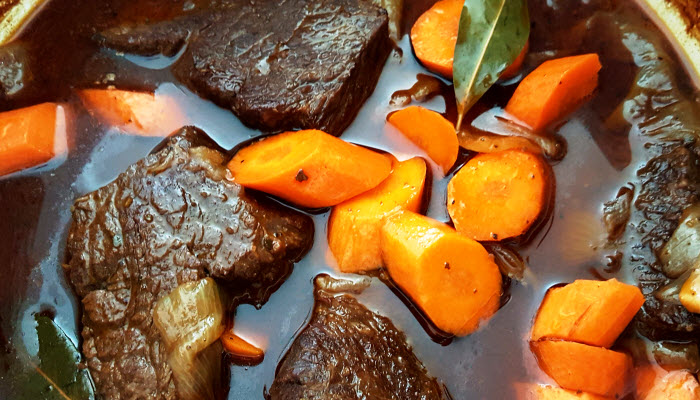 Classic Kosher flanken is having a comeback and that's a good thing: this delicious cut of meat is as tender as it gets. This recipe is 100% foolproof with sweet and savory notes guaranteed to satisfy even the most diehard flanken afficianado.
The Backstory: Let me say it straight up: I am not a beef girl. I don't crave burgers or steaks or ever have a hankering for ribs (not even during the Super Bowl). But I do make an exception when it comes to two things: my husband's truly divine brisket and this recipe for flanken. I simply have no words for either. More of the Backstory after the recipe…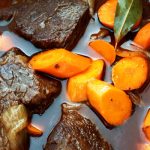 Classic Kosher Flanken
Fork tender, succulent beef is savory, lightly sweet, and perfectly seasoned after braising in the oven in stock, juice, herbs, and aromatics. This is as perfect a dish as can be made, and one that your family and guests will devour.
Total Time
2
hours
30
minutes
Ingredients
2

lbs.

Kosher beef flanken

Kosher salt

freshly ground black pepper

1/4

cup

vegetable or canola oil

1

large sweet onion, peeled and quartered

2

cloves fresh garlic minced

3

tbsp.

tomato paste

(or a really good squeeze from a tube of tomato paste)

1/2

tsp.

dried sage (or any dried herb you like)

2

bay leaves

2

cups

beef stock or beef broth

1

cup

Kosher grape juice (I use Kedem)

or Kosher wine, if you prefer

3

carrots

large, peeled and cut into 1/2 inch slices

cut on the diagonal
Instructions
Preheat oven to 350 degrees.

Bring flanken to room temperature (about 20-30 minutes). Season meat on all sides with salt and pepper. Heat oil in large Dutch oven (medium-high heat) and sear meat on all sides.

Add onion to the pot with the meat and stir the onion around, scraping up the brown bits on the bottom on the pan. Allow the onion to mix along in the beef juices for a few minutes until the onion starts to separate. Add the garlic and cook for 2 more minutes.

Add tomato paste and stir everything together. The onions and beef should color somewhat from the tomato paste. Keep stirring, allowing all the ingredients to incorporate and come together. The onions should start to look a little reddish/golden from the tomato paste. Everything should smell divine at this point, but don't crawl into the pot. Trust me, you'll want to.

Add the beef stock, juice, sage, rosemary, and bay leaves and stir well. Bring to a simmer. Cover the pot and place in the oven for 90 minutes. After 90 minutes, take out of the oven and turn the meat pieces over, so the meat is well-basted. Add the carrots and cover again. Cook for another hour. The meat should be soft enough to shred. Take out of the oven and let the pot sit on the counter covered for another 15 minutes.

Remove meat and slice on cutting board. Discard bay leaves. Slice and serve immediately with gravy and carrots.
…The Backstory continues: What makes this recipe so perfect comes down to three things: 1) It's foolproof. No really, it is. I have made it dozens of times and it comes out exactly the same, each and every time. You can set your clock to it (one of my father's favorite expressions) and it won't let you down. Follow the instructions and it  delivers. Period. 2) It's flavorful and perfectly seasoned. Savory but not salty. Sweet, but not rich. Just yin and yang in all the right ways. 3) It gets better with time. Make it on Thursday and serve it for Friday night Shabbat. Yeah, you can do that (as I type this — a Thursday night —  mine is in the fridge waiting for tomorrow's Shabbat dinner. And it will be even better if there are any leftovers (doubtful) on Saturday.
If you've never made flanken before–and I hadn't until this past year when my butcher suggested I try it as an alternative to pot roast–give it a try. It's a funny sounding, old-fashioned dish that your Bubbie probably made, but it's a real showstopper in terms of taste and depth of flavor. Best of all, it's simply to make and if you make it once, you'll master it. Promise.
Please follow and like us: