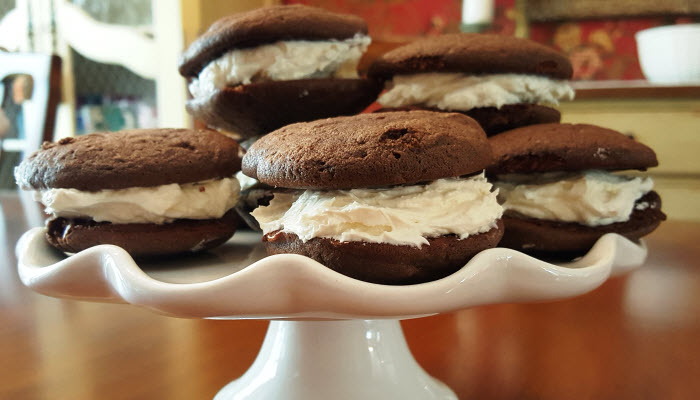 Kosher Whoopie Pies are a cross between a cookie and a cake with soft outer pillows of goodness that sandwich mounds of marshmallowy-light frosting. They're a New England staple with origins in the Amish country. Once you try them, you'll make them your own.
The Backstory: I didn't grow up eating Kosher Whoopie Pies in New York. In fact, I'd never even heard of Whoopie Pies, (Kosher or otherwise) until I moved to Boston to attend Boston University in 1982 and then these delicious puffy, marshmallow-filled sandwiches of goodness seemed to be everywhere from convenience store check out counters, to dorm cafeterias, to the homes of my New England friends. The snack cakes that were the staples of my childhood were Devil Dogs, Yodels, Hostess Cupcakes (and oh, the slow and deliberate method of digging into one of those perfect bad boys), and Ring Dings (not really a fan, but part of the family, so it gets an honorable mention).  More of the Backstory after the recipe…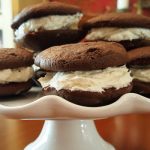 Whoopie Pies
Rich chocolate cookie-cakes sandwich a fluffy marshmallow-based filling in this classic treat that kids of all ages will devour. Double the recipe as the first batch will go in seconds.
Ingredients
For the Cakes
2

cups

all-purpose flour

1/2

cup

unsweetened cocoa powder (I use Hershey's)

1

tsp.

baking soda

1

tsp.

Kosher salt

1/2

cup

Crisco vegetable shortening (1 stick)

1

cup

brown sugar, packed

1

egg, extra large

1

cup

buttermilk

1

tsp.

pure vanilla extract
For the Filling
1

cup

Crisco vegetable shortening (2 sticks)

2

cups

Marshmallow Fluff

1 1/2

cups

confectioner's sugar

1

tsp.

pure vanilla extract
Instructions
Make the Cakes
Preheat oven to 350 degrees. Line 2 baking sheets with parchment paper and set aside.

In a medium bowl, whisk together the flour, cocoa powder, baking soda, and salt. Set aside.

In the bowl of an electric mixer fitted with the paddle attachment or using a handheld mixer, beat the shortening and egg together for about 3 minutes on medium speed until light and fluffy. Add the egg and continue to beat for another minute until everything is well combined.

Reduce the mixer speed to low and begin to incorporate the flour mixture into the wet ingredients. Pour the vanilla into the buttermilk and alternate adding the flour and buttermilk/vanilla into the flour, ending with the last of the buttermilk. Beat on low until everything has been well combined.

Using a small ice cream scoop or about two tablespoons as a guide, drop small dollops of batter a few inches apart on baking sheets. Bake for about 6 minutes until the cakes are puffy (so gorgeous but don't eat them yet--they have to cool first!). Set aside and make the filling below!.
Make the Filling
In the bowl of an electric mixer fitted with the paddle attachment, beat the shortening, Fluff and vanilla together and slowly add in the confectioner's sugar. Beat until well combined about 2-3 minutes.

Take a generous amount of filling and spread on the flat side of a cooled cake. Don't be fussy about it looking perfect--the messier and less formal, the better! Top it with another one to make a sandwich and gently pat together to form a Whoopie Pie. Dig in and enjoy!
…The Backstory continues: Right from the beginning, there was something about Whoopie Pies that appealed to me: packaged or not, they gave you the sense of homemade goodness, as if someone had just made them that morning and brought them to the local store that day. And I could not get over that they were always wrapped in cellophane, usually without any fancy labeling or wrapping, just cellophane, as if some wonderful home baker truly whipped them up that morning, and brought them over to the store or restaurant fresh from the oven. And the size of them! Massive! Like flattened out baseballs. Just huge.
Whenever I make these in my house, they disappear in minutes. My son, Morgan loves these–he's usually double-fisted from the split second I've filled the cakes and put them on a platter or cake stand. I can't say I blame him.
Please follow and like us: