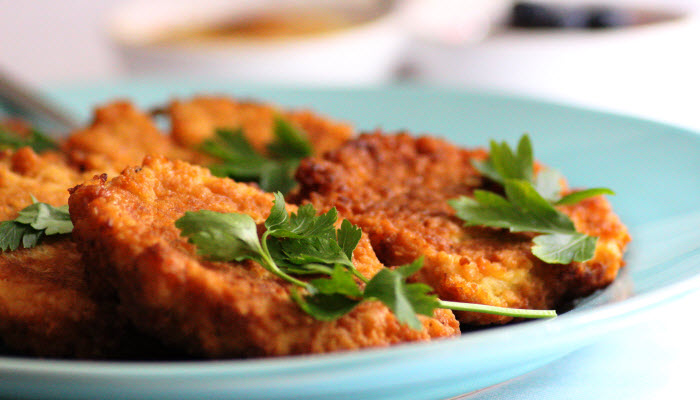 Our potato and apple latkes take traditional latkes and turn up the flavor with sweet and tart notes that make this Hanukkah side so delicious, you'll want to serve it (I do) all year long! They're also perfect party apps and favorite kid foods.
The Backstory: What would Hanukkah be without a heaping platter of traditional potato latkes? I, for one, couldn't imagine it, and as I sat down to input this recipe (my mother's), I couldn't remember a time without latkes in our family's Hanukkah celebrations. I'm sure many of you can't either. But then I decided to do a little something different with Mom's foolproof recipe. I decided to give it a tweak. Not because it needed it (her recipes are perfect) but because my family loves latkes and eats them throughout the year. My youngest son in particular, would eat them nightly, if I made them that often. He also happens to love apples and applesauce. And now he's addicted to my potato and apple latkes More of the Backstory after the recipe…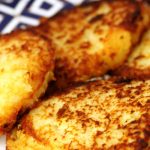 Potato and Apple Latkes
These delicious latkes get a little zing from shredded Granny Smith apples mixed into the latke batter. The results are latkes that have a slightly sweet and tangy bite and fry up so deliciously, you'll want to eat them as much for dessert as you do along with your dinner. Serve with cool, rich sour cream and apple sauce (yep, more apples!) to take the flavors over the top.
Ingredients
6

potatoes

peeled

1

medium onion

peeled

2

large eggs, beaten

1/2

cup

all-purpose flour

3

medium

Granny Smith apples, peeled, cored and shredded

(shred in food processor)

6-8

tbsp.

vegetable or canola oil

2

tsp.

Kosker salt

1/2

tsp.

freshly ground black pepper

sour cream

applesauce

1

sprig dill

for garnish (optional)
Instructions
Using a box grater or the grating blade of a food processor, grate potatoes and onion. Drain in a colander and press with your hands to remove all of the excess liquid. Put into a large bowl.

Add flour to the potatoes and onions. Gently fold in beaten eggs. Add salt and pepper.

Peel and core the apples. Cut into large chunks and place in the bowl of a food processor. Shred/process until the apples are cut into small pieces, about 1/2 inch in size. Add to the latke mixture and combine well.

Heat oil to medium-high heat in a large skillet. Using a large spoon, place potatoes in oil, and flatten with the back of the spoon. Allow them to cook for about 3-4 minutes before turning, and cook for another 3-4 minutes. Test one and adjust time if needed.

Put latkes on a wire rack. Place paper towels under the wire rack to catch the excess oil. Arrange latkes on large platter. Serve with sour cream and applesauce on the side. Garnish with a sprig of fresh dill.
…The Backstory continues: This recipe simply adds a few shredded Granny Smith apples to Mom's traditional recipe. That's it. The latkes get a little sweet and tart crunch thing going on in addition to their delicious latke goodness, and the rest is history. This is also one of the easiest latke recipes I've ever used and it's the one I always use, so that should tell you something.
These are best served immediately although they can be made ahead and reheated, but those of us who've grown up eating latkes know the difference, right? Serve right away if you can and don't skimp on the sour cream and applesauce!  My mouth is literally watering at the thought of these gorgeous, crispy pancakes. How many more days until Hanukkah? Guess what? It doesn't matter–make these anytime you feel like it. I do.
Please follow and like us: