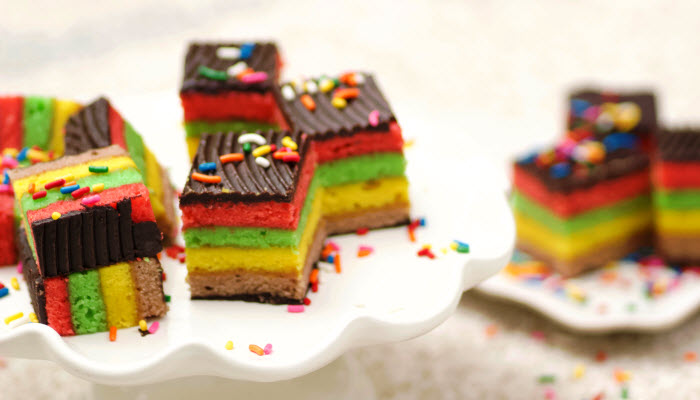 Where to even begin? These gorgeous marzipan and apricot jam-layered cookies are a throwback to just about everyone's childhood. How could anyone resist them? Well, you don't have to and now you can even make them at home with our easy rainbow cookies recipe!
The Backstory: Ah, rainbow cookies. Let's first settle the name of these wonderful dessert treats. Whether you are ordering these colorful confections in a Jewish, German, or Italian bakery, they have two things in common. One, when spotted in the bakery showcase, you simply can't keep your eyes off their vibrant layers of sweet pastry that look like bright, luscious ribbons. Two they are simply delicious.  How well I remember going to the Jewish bakery as a child and staring at them..  Needless to say, my dad made sure that I had one to nosh on before we left the bakery. I never tired of them.   More of the Backstory after the recipe…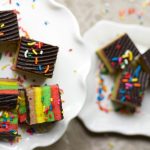 Rainbow / Marzipane Cookies
Rainbow cookies are like a little gift you can give yourself any day of the week. Who could resist? The bright colors, almond flavor, apricot jam and the chocolate?!!! And they're so cute!! Where goes the goodness end, people??
Total Time
2
hours
10
minutes
Ingredients
1

cup

apricot preserves

1

lb.

almond paste

2

sticks unsalted butter at room temperature

2

tsp.

vanilla or almond extract

1/2

cup

cake flour

6

large eggs

red, green, and yellow food coloring

12+

ounces

semi sweet, good quality chocolate chips
Instructions
In the bowl of an electric mixer (or using a hand-held mixer) mix the almond paste until smooth. If paste is too thick add one egg. Mix until smooth. As you continue using the mixer, remember to scrape off the sides. Add the butter and mix until well combined. Add the almond or vanilla extract and mix again. Add one egg at a time, mixing in between. Add the flour and mix until combined and set aside. Preheat oven to 350 degrees.

Using four 1/8 metal sheet pans, spray with pastry spray and line pan with parchment paper. You could also use four 8 x 8 disposable aluminum pans, also spraying and lining pans. Take 4 bowls and pour equal amount of batter into each bowl. Add 2-3 drops of red coloring into one bowl and mix, add the green into another bowl, and yellow into the third bowl. Do not add any food coloring to the fourth bowl.

Pour one bowl of batter into one of the four pans. Place the pans into the oven and bake for 15 minutes. Check to see if it is done, by inserting a toothpick into center of the pan. Remove and let the cakes cool completely. Remove from pans. and place on parchment paper. Put 1 piece of parchment paper back into a pan. Place the plain (without food coloring) cake back into the sheet pan. Put a thin layer of the apricot preservers on the plain layer Add the green layer of cake and add the preserves . Add the yellow layer and also put the preserves on that. Top with the red layer. Do NOT add any preserves on top of this layer. Place in the freezer for about 30-35 minutes. Or cover the pan with plastic wrap and place one of the sheet pans over the wrap (to use like a cover). Place some weight onto the top and refrigerate for about 4-5 hours. You can use either method.

Place a large piece of parchment paper on a table or counter top. Remove the cake from the sheet pan, and trim the edges. Cut into 3 bars Space the bars. This is so that when the chocolate glaze is used, you can coat all sides.

In a double boiler, melt the chocolate chips. Let cool. Using a metal spatula, spread a thin layer of chocolate over the adding more chocolate to allow it to run down the sides. Smooth the chocolate all over the sides. Do the same with the other bars. When icing is hard, refrigerate for about 15 minutes. Remove from refrigerator and slice into 1/2 inch pieces.
…The Backstory continues: When I was older and living on Staten Island, I was amazed to learn that my Italian friends also loved these cookies and had also grown up enjoying them. But they called them by a different name–marzipan cookies. How was that possible? I was brought up in a 99% Jewish area in Brooklyn, New York. Our neighborhood, had quite a few bakeries, each competing for your money. Needless to say they showcased the best that they had and these cookies were the standouts.  My mom never received a box of bakery cookies that weren't predominantly filled with these multi-colored layers of goodness. Things and ideas changed when I was exposed to different cultures. To this day, whenever I see rainbow cookies in a bakery–be it Jewish, German, or Italian,  I still see them thru the eyes of a child and think of my dad, telling the clerk "One for my baby, please."
Please follow and like us: