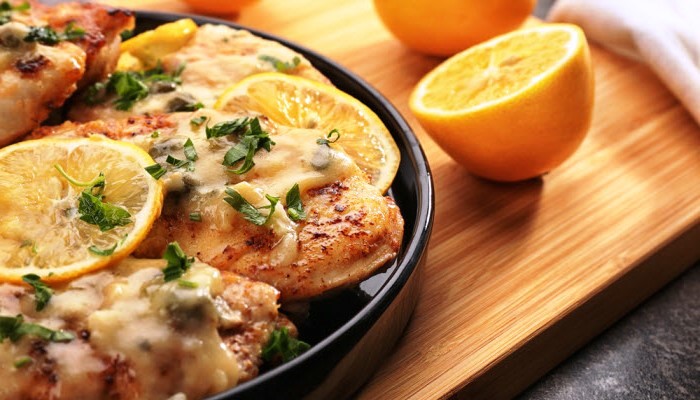 Our fork-tender, Kosher Chicken Piccata is both citrusy and creamy at the same time. This delicious Italian favorite gets a Kosher makeover with a few easy swap outs and the dish retains all the flavor it's famous for.
The Backstory: Kosher Chicken Piccata, like many of the recipes that I have acquired over the years, came from friends, family members and the pages of my favorite magazines.  These recipes were stuffed into paper folders and drawers and extracted whenever I wanted to break from my usual repertoire. Truth be told, before the dozens of cooking shows we now have on TV (thank you, Food Network), I never really deviated from my usual routine, and there really weren't that many TV chefs to choose from. More of the Backstory after the recipe…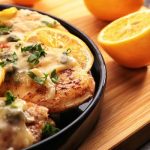 Kosher Chicken Picata
Tender pieces of chicken in a savory lemon and caper sauce. This Italian favorite gets a Kosher makeover by changing just a few ingredients without sacrificing taste.
Ingredients
5-6

Kosher boneless, skinless, chicken breast

cut into medallions, about 1/4-1/2 inches

1/2

tsp.

Kosher salt

1/4

tsp.

black pepper

2

large

cloves garlic, finely minced

2+

cups

Kosher chicken stock

1-2

lemons, sliced thin

1/2

cup

fresh lemon juice

4

tbsp.

capers

drained and rinsed

1/4

cup

vegetable oil

or as needed

4-5

tbsp.

pareve margarine

1/2

cup

flour

4

tbsp.

fresh parsley, chopped
Instructions
Put flour into a shallow dish and add salt and pepper. Dredge chicken in flour and set aside.

Heat about 3-4 tbsp. vegetable oil in a large skillet. Brown chicken about 3 minutes on each side. This may take several batches to do. Add more oil as needed. Remove chicken and place on wire rack to drain. Make sure to put paper towels under the rack to catch any excess oil. This step will allow your chicken not to get soggy.

Remove most of the remaining oil from the skillet, but leave a thin coating. Add chicken broth and the lemon slices and bring to a boil. Reduce heat to low. Add lemon juice and capers. Cook for about 5+ minutes to reduce sauce. Add margarine and stir into the lemon sauce. When margarine melts add the parsley and remove from heat.

Place chicken on a serving platter and pour sauce over the chicken. Serve with rice or pasta. Crusty bread is a must, so that it can soak up the tasty sauce. Enjoy.
…The Backstory continues: I well remember an Italian chef, who wore a large chefs hat. He loved to sing opera as he cooked.  Nothing fancy but there were always four pots on his stove. Then there was a southern chef, and I think her first name was Natalie. From this talented woman I learned to prepare southern fried chicken, which I still make to this day (with some minor variations). I learned  to "skin" a chicken from Yan Can Cook, and a few other tricks from the one and only Julia Child. These chefs. These chefs inspired me to come out of my comfort zone, which brings me this dish.
Chicken Piccata is a dish likely thought to be something only from an Italian restaurant or an Italian home cook's kitchen. Not necessarily so. The only differences in this recipe is that the chicken is Kosher (from a Kosher butcher) and the the lemon cause (the 'Piccata' in the dish) is made with pareve margarine, and not butter, as is used in the traditional preparation. A lot  of recipes can be made for the Kosher kitchen by changing a few ingredients. I started making this recipe years ago. My husband (fussy eater that he was) would never have even tried this dish if I served it with the lemon slices or capers that it calls for. So, being the smart wife that I am, I was the recipient of all that he did not get on his plate. Lucky me.
Please follow and like us: