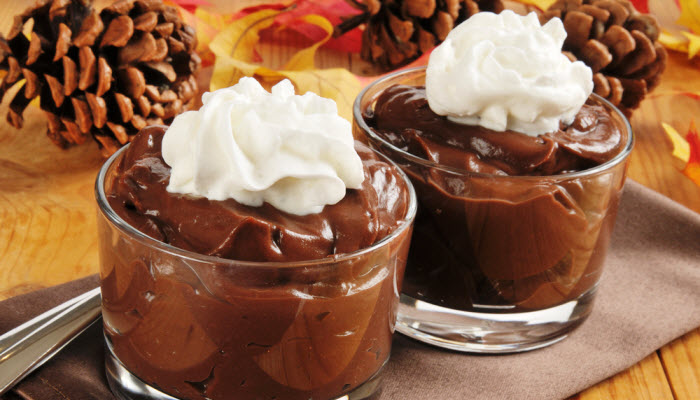 Old-Fashioned Chocolate Pudding
You want this! Old-fashioned chocolate pudding is creamy, chocolaty, decadent, and simply perfect. Add a huge dollop of fresh whipped cream and just let yourself indulge. You deserve it.
The Backstory: When I look at this recipe for old-fashioned chocolate pudding my mind takes me back to two memories. One is that every time I went into a diner, there was always a glass enclosed carousel that was laden with decadent desserts  Around and around this carousel went, making sure the patrons wouldn't miss a thing.  From piled high cakes to pies, black and white cookies, and of course, the old standby, chocolate pudding. I don't know anyone who would turn down this rich creamy dessert.
Memory number two: chocolate pudding has been a part of my life ever since I could remember, but I don't recall my mom making it from scratch. Packages of My*T*Fine chocolate pudding as well as JELL-O and Junket were staples in my mom's pantry. I'm going back to the 1940s and 1950s here. The first time I had homemade pudding was when I experimented with it before I had children.  Truth be told it was easier to reach for a box of pudding mix. My husband loved this dessert and I did make it once or twice from scratch. But after listing this recipe I will not be using the box kind again.  Shame on me. This is so decadent. Try it and do make some homemade whipped cream (two-minute recipe below). This dessert is worth the time, which you will discover with your first spoonful.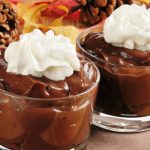 Homemade Chocolate Pudding
Rich and creamy, the way chocolate pudding should be! Add a heaping spoonful of homemade whipped cream and serve in a parfait glass. No one will refuse this classic dessert.
Total Time
4
hours
25
minutes
Ingredients
4

tbsp.

unsweetened cocoa powder

8

tsp.

corn starch

2/3

cup

sugar

1

pinch

Kosher salt

2

tsp.

vanilla extract

2

cups

Whole milk

1

small

container of heavy whipping cream

1-2

tsp.

sugar

4

tbsp.

semi-sweet chocolate chips

shaved chocolate as a garnish

optional
Instructions
In a heavy sauce pan over medium heat add sugar, cornstarch and salt. Using a whisk slowly add 1 cup of milk and whisk until smooth. Then add the rest of the milk. Keep whisking until mixture is smooth and thick and comes to a boil. This should take about 4-6 minutes. Remove from heat Add the chocolate chips and vanilla. Whisk until the chocolate chips melt. Pudding will be smooth. Pour into 4 parfait glasses. In order for a skin NOT to form place plastic wrap over the pudding, but let the wrap touch the pudding. Let cool and refrigerate for about 4+ hours. Serve with whipped cream.

Pour into 4 parfait glasses. Cover each glass with plastic wrap and let the plastic sit DIRECTLY on top of the pudding to make sure that a skin does not form on the pudding. Refrigerate for about 4+ hours.

To make the whipped cream, pour heavy whipping cream into a mixer and use whisk attachment. Whisk on high speed until stiff peaks from. Sprinkle the sugar over the top and mix for a few seconds. This can also be done with a hand held mixer. Shaved chocolate can be used as a garnish.
Please follow and like us: