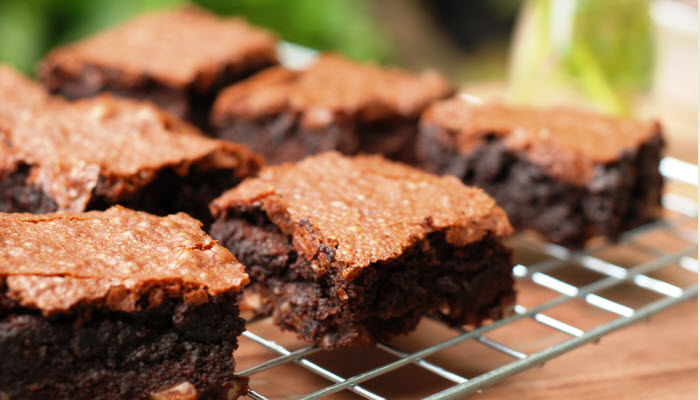 The Backstory: Every Passover, I go in search of delicious, flavorful desserts that won't disappoint or fall flat (no pun intended) due to their lack of flour and leavening agents, and every year, I find myself digging out my same old macaroon recipes (fabulous, but familiar). Well, the search is over. My wonderful cousin shared this decadent brownie recipe with me recently, and I promise, you won't notice anything missing in this chocolate beauty. More of the Backstory after the recipe…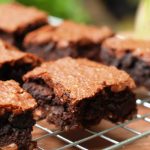 Passover Brownies
Rich, decadent brownies may be light on flour but not on taste. These are delicious enough to be your go-to brownie any time of year, not just at Pesach.
Ingredients
2

cups

light brown sugar

1

cup

unsalted butter, melted and cooled

or parve margarine

3

large eggs

1

tbsp.

brewed coffee

3/4

cup

sifted unsweetened cocoa

1/4

tsp.

Kosher salt (use a little less)

1

cup

matzoh cake meal

1/2

cup

finely chopped walnuts (optional)
Instructions
Preheat oven 350 degrees. Lightly grease a 9 inch square pan.

In a small saucepan, melt butter over low heat and cool for 10 minutes.

In an electric mixer on low speed, beat eggs and sugar until thickened. Add butter and mix lightly. Mix in coffee, cocoa, salt, cake meal and nuts. Mix at low speed until just combined. Spread batter into pan and bake in center of oven for 25 minutes. Do not over bake.

Cool completely in pan on rack. Brownies will keep layered on wax paper in airtight container at a cool room temp 5 days.

Dust with Confectioner's sugar if desired.
…The Backstory continues: The hint of coffee brings out the richness of the cocoa and the walnuts give it the perfect amount of crunch. If you've have  chocoholics in your family or at your Seder table, toss in a handful of chocolate chips (you really don't need them, but just in case). This is one brownie recipe that truly stands on it its own, with or without the Passover distinction.
Please follow and like us: