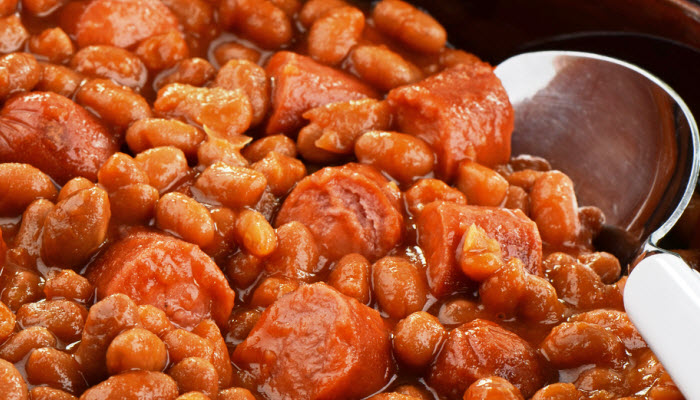 Old-Fashioned Franks and Beans
Old-fashioned franks and beans are a retro one-pot dish that will bring you back to your childhood.
The Backstory: I remember eating old-fashioned franks and beans during my childhood as clearly as if I just sat down and had it yesterday. Of course I've had hot dogs in the years since I was a little girl, but I distinctly remember my mother serving this meal of franks and beans in a square, white Corningware dish, with crinkle-cut French fries on the side. Now, to be fair to my mother, she is a fabulous cook, but this was not my favorite meal. Little did I know that hot dogs were my mother's favorite food, so she was only too happy to prepare this for us. My mother, father, and brother literally devoured this dish. More of the Backstory after the recipe…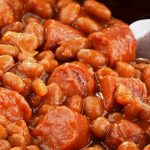 Old-Fashioned Franks & Beans
Sauteed onions, brown sugar, and whole grain Dijon mustard add sweetness and tang to baked beans and franks for a classic dish with the flavors turned up. This is an old-fashioned dish that will never go out of style.
Ingredients
2

tbsp.

canola or vegetable oil

1/2

medium onion, small dice

1

tbsp.

brown sugar

2

tbsp.

stone ground Dijon mutard

8

Kosher hot dogs, cut into large pieces

2

16 oz. cans baked beans
Instructions
Preheat oven to 350 degrees.

In a small saucepan over medium heat, heat oil. Saute onions until translucent.

In a large bowl, combine onions, brown sugar and mustard. Stir until well combined. Add beans and gently toss. Add hot dogs and mix.

Pour mixture into an medium sized baking dish and bake uncovered for 20-25 minutes or until bubbly.
…The Backstory continues: Frankfurters show up (often with a knish or sometimes with Kosher beans) on nearly every deli menu I've ever encountered–and for good reason. Kosher franks are comfort food and done right, they're pretty darn good. When prepared with beans, I like mine with sauteed onions (as this recipe suggest), and a bit of deli mustard (also in the recipe). Mom didn't add these, likely because my father would never have eaten anything as exotic (LOL) as all that. He was a simple eater and if he so much as saw an onion, well, that was the end of that.
Please follow and like us: