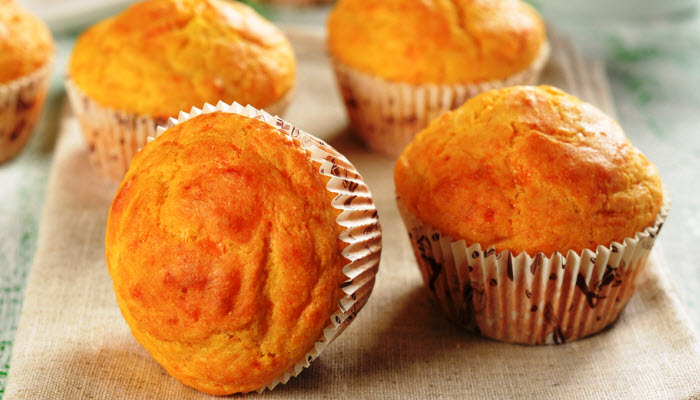 Grandma's corn muffins are sweet, golden, and crumbly and just about everything you want a corn muffin to be. Perfect for breakfast or a quick snack.
The Backstory: I love, love, love freshly-baked corn muffins. That is, I love freshly-baked good corn muffins. You know the ones: muffins that are moist, slightly sweet, and have a little bit of crunch on top. The problem with so many commercial corn muffins (and other varieties) these days is that they are loaded–and I mean loaded–with sugar and artificial flavors and preservatives. By the time you're done eating one, you need a nap. And muffins are supposed to be breakfast food! More of the Backstory after the recipe…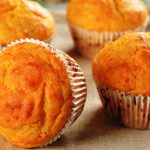 Grandma's Corn Muffins
These sweet and fluffy muffins are perfect for breakfast, brunch, or anytime you want a little something to nosh on with coffee or tea. They're also perfect to pack in a lunch or gym bag for work or for the kids.
Ingredients
2

cups

all-purpose flour

1 1/2

cups

cornmeal

4-8

tbsp.

sugar

2

tbsp.

double-acting baking powder

1

tsp,

Kosher salt (optional)

2

eggs (or Egg Beaters, optional)

1 1/3

cup

milk (skim or low fat optional)

2/3

cup

melted margarine or salad oil (I use canola oil)
Instructions
Mix the first five dry ingredients in a bowl with a fork. In a smaller bowl with fork, beat eggs. Add oil and mix. Add milk.

Add egg mixture to dry mixture and mix quickly and lightly with a fork. (Add poppyseeds--optional).

Spoon into non-stick muffin tin for one dozen muffins, to the top. Bake until lightly brown, 20-30 minutes.
…The Backstory continues: This recipe from my husband's late grandmother, Florence Levy, is sweet, delectable and melt-in-your-mouth, delicious. The muffins are light, fluffy, not overly sweet and are made with only fresh ingredients. They are truly what you want your corn muffin to taste like and are the kind of baked goods you can feel good about giving to your children. Florence's recipe also offers suggestions for lower-fat substitution ingredients like Egg Beaters and skim-milk, so you can adjust the recipe to fit your lifestyle and dietary preferences.
The more recipes I read from this much-loved and so-very-missed lady, the more I wish I had met her. Even once.
Please follow and like us: