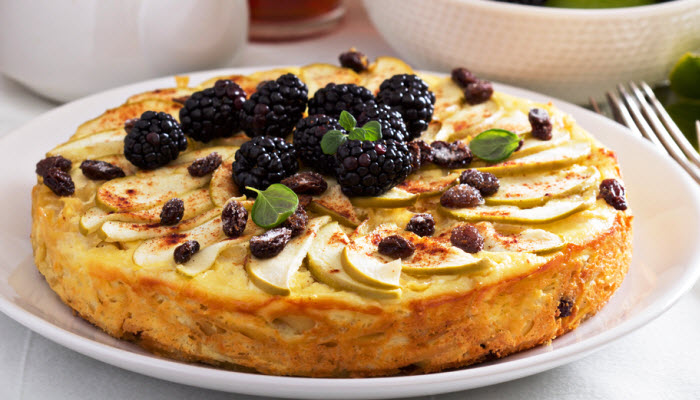 Noodle and Apple Casserole
Our noodle and apple casserole tastes like a kugel but presents like a showstopper pie, topped with fruit and swirls of apple baked into the dish.
The Backstory: This gorgeous noodle and apple casserole looks like dessert and can actually do double duty as a side dish (its base is noodles and apples) or as a sweet ending to a holiday meal. Unlike most kugels, there aren't any eggs to act like a binder to keep the dish together. Instead, this is a densely layered pie, if you will, of apples, wide noodles, and sugar, cinnamon, and raisins, with only a few tablespoons of melted butter (to keep the noodles from sticking together). It feels more like a pasta dish than a creamy kugel, but it's just as delicious as your favorite kugel. The blackberries add a tart surprise that balance out the sweetness of the apples and sugar and definitely deliver a wow factor presentation.  More of the Backstory after the recipe…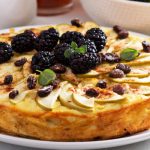 Noodle and Apple Casserole with Raisins and Blackberries
This delicious apple and noodle pie is dense, sweet, and tart with the addition of blackberries as a garnish. This is a perfect side for a dairy dinner or it can even be served as dessert.
Total Time
1
hour
10
minutes
Ingredients
1

lb.

wide egg noodles

6

tbsp.

melted butter, (4 to combine with noodles, 2 to dot the casserole before baking)

1

tsp.

Kosher salt

1/2

cup

sugar

1

tsp.

ground cinnamon

1/2

tsp.

vanilla

1/2

cup + 2 tbsp.

raisins (dark or white)

5

cups

sliced, peeled apples (your choice)

1/2

cup

blackberries, for garnish
Instructions
Preheat oven to 325 degrees. Grease a springform pan and set aside.

Cook and drain the noodles. Mix the noodles with 4 tbsp. of melted butter and stir gently. Add the salt, sugar, cinnamon, vanilla and raisins and set aside.

Starting with the noodles, lay alternate layers of apples and noodles, reserving several slices of apples to decorate the top. Once you have finished layering the casserole, use the reserved apple slices to fan out a layer of apples slices on top in a pretty fashion.

Dot the top of the casserole with 2 tbsp. of butter cut up in small pieces. Bake for 50 minutes until apples are tender.

Remove from oven and let cool. Sprinkle with a little cinnamon and decorate with blackberries before serving.
Please follow and like us: