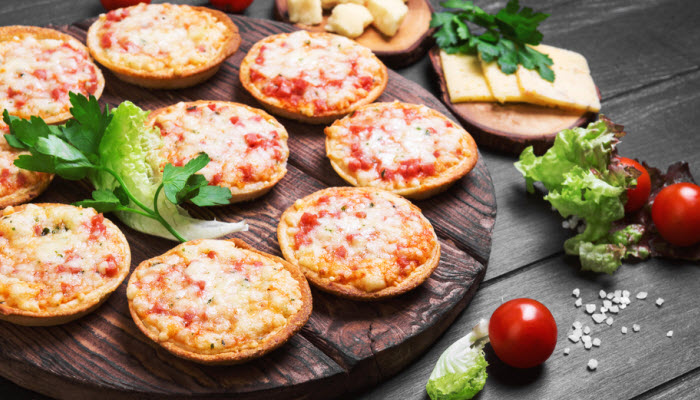 Zesty, cheesy, and crispy, these two-bite mini pizza appetizers are classic party favorites that kids and adults adore!
The Backstory: Mini pizza appetizers are the perfect bite-size snacks for kids, but truth be told, they are one of the first apps to go when adults are the guests, and I can understand why. More of the Backstory after the recipe…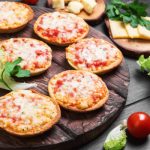 Mini Pizzas
Bite-sized mini pizzas are the perfect appetizer for any party or after school snack. Mini bagels or mini pitas serve as the crust and are topped with fresh mozzarella and a delicious, and easy-to-make homemade marina sauce.
Ingredients
2

tbsp.

olive oil

extra virgin

1/2

medium

onion

diced

2

garlic cloves

minced

2

cans

tomato paste

6 ounces each

1

can

whole peeled tomatoes

28 ounces, San Marzano preferred

1 1/2

tsp.

Kosher salt

1

tbsp.

sugar

(more may be needed, to taste)

1

cup

chopped fresh basil leaves

1/2 cup for sauce; 1/2 cup for pizza garnish

1

cup

water

more may be needed

1

16 oz shredded mozzarella or fresh (your choice)

12

mini bagels or 12 mini pitas

sliced open

grated Parmesan cheese
Instructions
For the Marinara
Heat oil in a large pot on medium heat. Cook onions for about 10 minutes until translucent but not brown. Add garlic and cook for another 2-3 minutes.

Add tomato paste. Add liquid from the tomatoes and then, use your fingers to squish tomatoes as much as you can before dropping them into the sauce. Mix well and then add one cup of water.

Add salt, sugar, and chopped basil. Stir sauce. If sauce is too thick for your liking, add more water, starting with a half cup at a time, and stir after each addition, to get the consistency you like.

Reduce heat to low and cover. Cook for 30 minutes. Set aside for recipe. Store remaining sauce in airtight container in refrigerator or freezer.
To Make the Pizzas
Preheat oven to 425 degrees.

Slice mini bagels or mini pitas open so that you have 24 halves. Arrange on baking sheet (you may need two baking sheets to fit them all). Bake for 2 minutes until slightly crispy and remove from oven.

Spoon approximately 2 tbsp. of marinara sauce on each half. Top with one slice of mozzarella (or 2 tbsp. shredded mozzarella). Bake for 10 minutes.

Watch to make sure cheese does not burn. Remove from oven and garnish with remaining fresh basil leaves and freshly grated Parmesan cheese. Serve immediately.
Recipe Notes
Notes: If you have more adventurous eaters, feel free to doctor this recipe up by adding fresh veggies such as chopped red and yellow peppers, black olives, or whatever suits your guests. I've often served small spoonfuls of tossed green salad on top of the pizzas as well as goat cheese for an extra kick (absolutely delicious).
…The Backstory continues: Pizza is synonymous with delicious, childhood-adolescent-goodness, and if there's a person alive who doesn't have a particular fondness for pizza (thin crust, thick crust, deep dish, NY-style, take your pick), I'm not completely sure I could ever trust them, LOL.
I grew up on pizza, literally. Across the street from my dad's bagel bakery was the most delicious Kosher pizzeria, which I believe is still in business today. For about fifty-cents a slice, you could get one of the best slices in all of Brooklyn. Back at home (Staten Island), we also had some of the best our borough had to offer. For starters, Brothers pizza has some of the best pizza ever known to man (I have this as first-hand knowledge and my brother and husband will back me up). Denino's pizza, legendary in NY and featured on the Food Network and many other food shows and websites, is still going strong, but long before it rose to TV fame, it was simply the place we went for a good pie. These classics were our staples, our pizza baseline, and they set the standard pretty high for our tastes. Even our local mall had phenomenal pizza. By the slice. Pizza in New York was that serious. Which is probably why whenever I have a party, I always find a way to include some sort of homage to everyone's favorite food, even if it's in mini form.
My mini pizzas starts with my own homemade marina sauce, fresh mozzarella and basil and then uses mini bagels or mini pitas (your choice) for the crust. Either way, I guarantee these little bites will be an instant hit at your next party. They're also a great after school snack for the kids or a perfect easy lunch with a salad. Save the leftover sauce in the fridge (the recipe makes a lot) for pasta later in the week.
Note: Please note that while the cook time below is 40 minutes, 30 minutes of that is cooking time for the sauce. Once the sauce is done, the pizzas cook in only 10 minutes. If you are pressed for time, you can always swap out the homemade sauce for your favorite jar sauce. Your secret will be safe with me.
Please follow and like us: