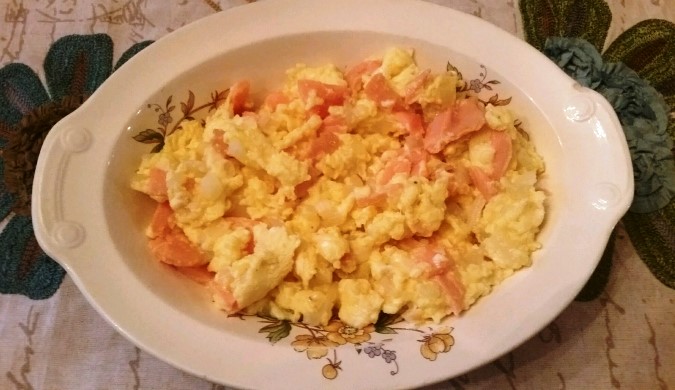 Eggs, lox, and onions is a delicious Jewish breakfast classic that's easy to make at home. Don't forget the bagels!
Backstory: This simple recipe for Eggs, Lox and Onions is one of my most beloved, because it reminds me of my childhood, and more specifically, it reminds me of the special time that I spent with my grandmother…just the two of us. More of the Backstory after the recipe…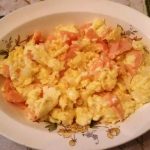 Eggs, Lox & Onions
This comforting, Jewish soul food classic dish is perfect for breakfast, brunch, or when you feel like having comfort food for dinner. It's even perfect on a wrap with sweet, sliced tomatoes.
Ingredients
1-2

tbsp.

unsalted butter

1

small onion, finely chopped

6-8

slices

lox (smoked salmon), cut into bite size pieces

pat dry with paper towels to remove excess oil

8

eggs

well beaten

Kosher salt and pepper to taste
Instructions
In a medium saute pan, melt butter on medium heat and add onions. Cook onions, stirring often until they are soft and translucent (but not brown), about 5-7 minutes.

Add lox and reduce heat to low. Stir lox and onions together and cook for about 3 minutes.

Add second tablespoon of butter and add beaten eggs. Add a good pinch of Kosher salt and small pinch of pepper and stir.

Allow eggs to set without stirring for about 3 minutes and then with a rubber spatula, stir every minute or so, until eggs are cooked to a soft scramble and the lox and eggs are evenly distributed throughout the mixture. Serve immediately.
…The Backstory continues: I've written many times about growing up 'in' my father's bagel bakery. And that's all true. But part of what made this time and all of those experiences even richer was that on Saturday nights, after Shabbos was over and when my father and I would make the trek from our home in Staten Island back to Brooklyn to reopen his shop, the thing I looked forward to most was knowing that at just around 11 pm, come rain or shine, my grandparents would make an appearance. They lived not too far from his bakery and on the Saturday nights I worked the register (usually in high school), they would come to the store towards the end of the evening, relieve me of my duties (ha, ha, I loved working with my dad) take me for a slice of Kosher pizza across the street, and then load up on bagels, lox, and all kinds of goodies to take back to their house. I would sleep over that night in my Aunt Jackie's old room, and then the next day, the rest of the family (cousins, aunts, uncles, my parents and brother, the whole crazy lot), would gather at my grandparents' Bergen Beach house for breakfast/brunch, whatever you want to call it.
In the early hours on Sunday morning, my grandfather would slip out to a local bakery where he would pick up a combo cheesecake fruit ring (I've never been able to find anything like it again but I remember it clear as day, cheesecake with dollops of blueberry topping, pineapple, cherry, etc around the border), and an enormous box of jelly and Boston cream doughnuts for the kids. While he was off on his baked-goods mission, my grandmother would teach me how to make Eggs, Lox and Onions, always to be served in the same flowered ceramic dish, which I am certain, gave it that special taste that I have never been able to recreate. My  mother is now the possessor of that dish, and trust me, I have my eye on it.
To this day, I cannot make, order, or eat Eggs, Lox and Onions without thinking about my grandmother, seeing her in her kitchen, in my mind's eye as she walked between her stove and the sink, stirring the onions, beating the eggs, swirling around huge pieces of lox, and placing that flowered bowl on the table. Most of all, I see her face lighting up as everyone came through her front door on Sunday morning.
My grandmother died four years before my son was born. I sometimes wonder how, to this day, I can still hear her laugh and smell the foods cooking in her kitchen.
How can the most important people in our lives not know each other? I suppose this is why I write these recipes and stories down so that they exist someplace where they are tangible. Where I can see them and know that they keeps us all inextricably linked, whether it's through food or memory or even an old flowered dish.
P.S. A few months after I wrote this recipe and post, my mother finally gave me my grandmother's dish. It wasn't out of the goodness of her heart (sorry, Mom). Her sister (my aunt), was eyeballing it, and Mom, acting quickly, packed it in her purse on her next trip to Boston. It's now in my kitchen and just for you, pictured above. I should probably call my aunt and thank her, LOL.
Please follow and like us: