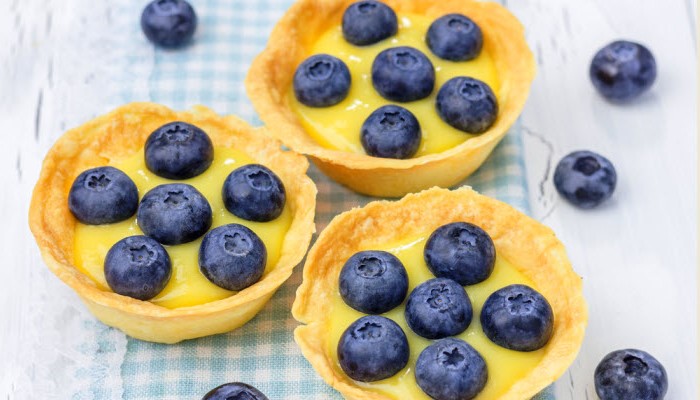 Mini Lemon Cheesecake Tarts
These gorgeous tart, creamy, and delicious two-bite mini lemon cheesecake tarts are absolutely addicting! The combination of cheesecake and lemon is as close to confection heaven as it gets and these are just beautiful topped with fresh berries. Good luck stopping after just one.
The Backstory: I am a self-confessed cheesecake and lemon-meringue pie addict. There; I said it. But to make matters worse, I'm a snob when it comes to both of them. I grew up drooling over gorgeous mile-high lemon meringue pies and massive cheesecakes with glaceed strawberries as they spun around and around in those revolving glass dessert cases that were (and still are) staples in New York diners and Jewish delis. The minute I would walk into one with my parents, I would make a beeline for those showcases and become mesmerized by the seven-layer cakes, parfait dishes filled with chocolate pudding and whipped cream, chocolate cream pies, rice pudding bowls, and heck–those cases could even make half a scooped out cantaloupe look good! More of the Backstory after the recipe…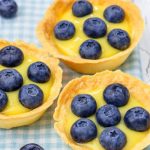 Mini Lemon Cheesecake Tarts
Tart, creamy, light, and addicting, our mini lemon cheesecake tarts are the perfect two-bite ending to any meal and are also a great addition to a buffet table or cocktail party.
Total Time
1
hour
40
minutes
Ingredients
For the Crust
3

ounces

cream cheese, at room temperature

(do not melt to soften)

1/2

cup

unsalted butter, at room temperature

1/2

tsp.

lemon zest

1

cup

all-purpose flour
For the Cheesecake Filling
1/2

cup

sugar

5

ounces

cream cheese, at room temperature

(do not melt to soften)

1

egg

lightly beaten

1

tsp.

fresh lemon juice

1/2

tsp.

pure vanilla extract
For the Lemon Curd
1

tbsp.

lemon zest

3/4

cup

fresh lemon juice (3-4 large lemons)

1/2

cup

sugar

1/4

tsp.

Kosher salt

3

large eggs

plus 4 large egg yolks (all at room temperature)

4

tbsp.

unsalted butter, diced into small pieces

fresh blueberries or raspberries
Instructions
Make the Crust
In a small bowl with electric mixture, beat 3 ounces of cream cheese, 1/2 cup butter, and 1/4 tsp. lemon zest until well blended. Slowly add 1 cup flour and mix together. Refrigerate for 1 hour or until firm.

Preheat oven to 325 degrees. Shape dough into one-inch balls and press each one into the bottom of an ungreased mini muffin pan (24 muffin size). Press the dough along the bottom and up the sides of each muffin cup.
Make the Cheesecake Filling
In a small bowl with electric mixer, beat 1/2 cup sugar and 5 ounces cream cheese until smooth. Beat in 1/2 tsp. vanilla, 1 tsp. lemon juice, and 1 egg. Continue to beat on low until well-combined. Fill the muffin cups halfway with the mixture and bake for 18-20 minutes or until set. Gently run a knife around the tarts to loosen them from the pan and cool on wire rack (20-30 min). Go slowly--they are delicate.
Make the Lemon Curd
In a small bowl, whisk together the eggs and yolks and set aside.

When cooled, remove tarts from pan and start heaping on the lemon topping!!! Don't stop there--add fresh blueberries (maybe a sprig of mint?) or raspberries, if you prefer. Good luck not devouring these. They are delish.

In a small saucepan over medium heat, cook lemon zest, juice, salt, and sugar. Stir until all ingredients are combined and the sugar has dissolved. Turn off heat and slowly add a little of the eggs into the mixture (about half a cup) while whisking briskly.

Pour the rest of the egg mixture into the pan and continue to whisk briskly to prevent the eggs from curdling. Turn the heat back on and continue to cook, whisking continually until the mixture has thickened. This should take about 5 minutes. Then add the butter and mix well. Remove from heat.

If you see there are any egg solids, you can strain them out (this happens the first few times you make lemon or lime curd, so no worries!). After straining, cover the lemon curd with plastic wrap and chill for 30 minutes. Then scoop a dollop on top of each mini cheesecake tart and garnish with fresh berries and serve. ENJOY!
…The Backstory continues: To this day, I cannot resist a good cheesecake or lemon meringue pie. So when I find a recipe that has cheesecake and lemon in it, well, I have to try it. These little lemon cheesecake tarts are just divine. Creamy, tart, sweet (but not too) and they are so beautiful on a dessert buffet or displayed simply on a cake stand. They're easy to make and one of the staples in my go-to recipes whenever I'm having company. I know they'll be on of the first things to go.
Because the crust has to chill in the fridge for an hour, I tend to make these early in the day, set my table or prep other foods, and then I don't feel rushed in making dessert. I like to have everything done ahead of time and just knowing I need that hour to let the crust chill for a bit, lets me plan whatever else I need to do, so just keep that hour in mind before you set out to make these. There are three steps here: crust, cheesecake filling, and lemon topping. It takes about 25 minutes to make everything but they are so worth it.
Please follow and like us: