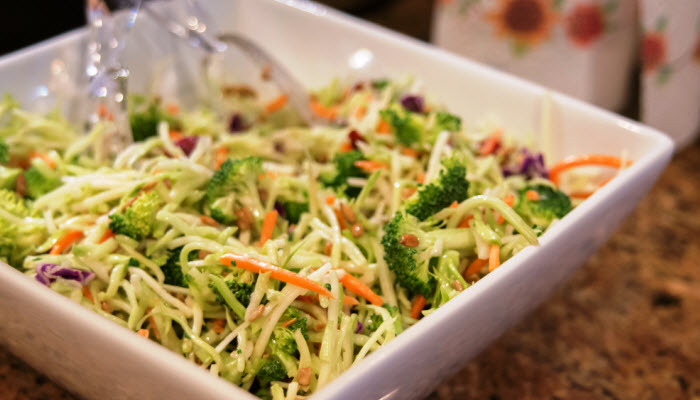 Broccoli slaw is a crunchy, flavorful and fun take on traditional cole slaw. This versatile side is the perfect accompaniment to sandwiches, grilled dishes, and of course, deserves its rightful place at your next barbecue.
The Backstory: This broccoli slaw comes to The Jewish Kitchen from my longtime girlfriend, Gloria. In our conversation about this tasty slaw she related to me that even though this recipe serves six people, she often makes a small batch just for herself. She loves the dressing, because it adds the right amount of zing to the broccolini. More of the Backstory after the recipe…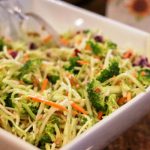 Broccoli Slaw
The colorful slaw is pleasing to the eye, The crunch from the nuts and the seasoning give it a scrumptious taste The addition of the ramen noodles puts it over the top.
Ingredients
2

12 ounce bags of Broccolini slaw

6

scallions

washed and cut into small pieces or 1/3 cup of any onions, cut up.

1/4

cup

toasted almonds

or your choice of nuts (optional)

1/2

cup

toasted sesame seeds

optional

1

package

chicken flavored ramen noodles

break noodles into small pieces-save packet of seasonings (optional)

1/4

cup

margarine

1/3+

cup

oil

1/2

tsp.

sesame oil

1

tbsp.

soy sauce

1/3

cup

sugar

or 3 packs splenda

1/4

cup

rice wine vinegar

black pepper

to taste

2

cups

fresh broccoli florets

rinsed and dried
Instructions
Put broccolini and broccoli florets into a large bowl and add the scallions, almonds and sesame seeds. Mix well and pour onto a serving platter or into a large bowl. Set aside.

If adding the ramen noodles, heat 1/4 cup margarine in a small pot and add the ramen noodles. Mix together and add the seasoning packet. Mix for about 3-5 minutes. Do no burn the noodles. Set aside.

In a small bowl mix together the vegetable oil, sesame oil, soy sauce, sugar, vinegar, and black pepper. This can be used on top of the broccolini without the ramen noodles (if you don't want to make the noodles).

If you are not serving this immediately, refrigerate the dressing and broccoli mixture separately until ready to serve. Before serving mix the dressing with the noodles . Pour this mixture on top of the broccolini and toss before serving.
…The Backstory continues: Gloria and I have been friends for over 35 years and live near each other in south Florida. We have shared many a dining experience together, both locally and on vacation.  She's an excellent cook  and a terrific baker and several of her recipes including her jam roll cake and apple cake are Jewish Kitchen favorites, but of course, I'm not surprised! I've had both of them many times and enjoyed them each and every time.
I know that when I get a recipe from Gloria, it's like money in the bank. Oh, fyi, there is a part of this recipe she said she sometimes eliminates, if she is in a rush–that's the ramen noodles, but I left it in here anyway and you can decide whether or not to leave it out. I love anything crunchy and I think it's worth the effort to add it in, but recipes are flexible and so do what you like.  Another fun note about my pal, Gloria: she loves to prepare meals that require only one pan. I always laugh when she tells me that she had to use two pans to make a dish. Such an ordeal! She hates the cleanup process and complains about it. So if more than a single pan is used, I know that the recipe has to have a wow factor in order for her to be willing to clean up more than one pan. This recipe? Two bowls, so this must be a darn good slaw. My advice to Gloria is always the same: use the dishwasher, my dear.
Please follow and like us: