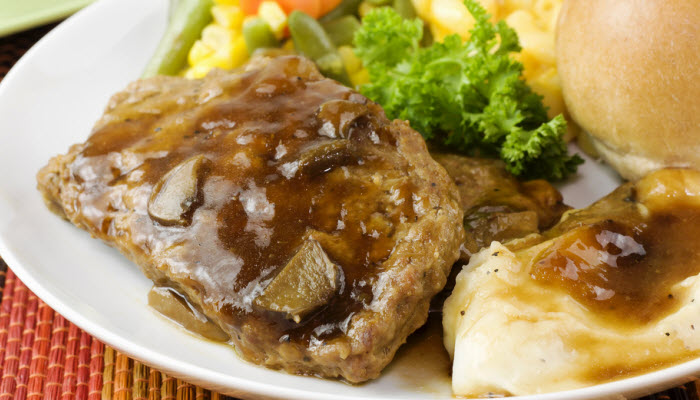 Meatloaf with Mushroom Gravy
Comfort food at its finest–don't forget the mashed potatoes!
The Backstory: This recipe is comfort food as its best. The meatloaf itself is juicy and flavorful, but the gravy is just out of this world. Two surprise ingredients in this dish–lemon zest and lemon juice. I remember making it for the first time and having one of those ah-ha moments after I tasted it. At first, during the cooking process, I was a bit skeptical (to be honest), but once I put a fork to my lips, I was a convert.  This is as refined a recipe as you can get (it is after all, meatloaf that we're talking about) but don't let the name fool you, this is downright scrumptious. More of the Backstory after the recipe…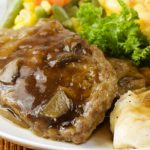 Meatloaf with Mushroom Gravy
This delicious meatloaf is savory, zesty, and topped off with a luscious mushroom gravy that takes it over the top. Serve it with mashed or roasted potatoes and a green vegetable for a scrumptious, hearty meal.
Ingredients
For the Meatloaf
2

lbs.

Kosher ground beef, 90% lean

1

egg, slightly beaten

1

small onion, finely chopped

1

tbsp.

lemon zest (approx. 1 large lemon)

2

tbsp.

chopped fresh parsley

1

tsp.

Kosher salt

pinch of freshly ground black pepper
For the Gravy
1/2

lb.

fresh white mushrooms, wiped clean and sliced

3

tbsp.

extra virgin olive oil

2

tsp.

freshly squeezed lemon juice

1/2

cup

all-purpose flour

1

beef bouillon cube

1/2

tsp.

Kosher salt

pinch of freshly ground black pepper
Instructions
Preheat oven to 350 degrees.

In a large mixing bowl, combine beef, egg, onion, lemon zest, parsley, salt, and pepper with your hands. Mix until just combined. Do not over mix. Form a loaf with the meat mixture in a baking dish (approx 9 x 13).

Place in oven and on the shelf underneath the meatloaf, place a larger baking pan or roasting pan filled at least halfway with water. This will help prevent the meatloaf from cracking (although it still may crack a little on top). Not to worry if it does, the gravy will cover most of the cracks. Bake for 30 minutes.

While the meatloaf is baking, prepare the gravy: Boil 3 cups of water in a saucepan and when the water reaches a boil, place the bouillon cube in the saucepan to dissolve. Take 1 cup of the bouillon and water mixture and use it to baste the meatloaf during the cooking process. Reserve the other 2 cups.

In a medium saucepan, heat olive oil on medium heat and saute mushrooms for 10 minutes or until they are softened and brown. Add lemon juice. Add the flour slowly and the remaining beef bouillon liquid. Stir until the gravy is thickened and smooth. Add salt and pepper. Taste and adjust seasonings as necessary.

Remove meatloaf from oven and let rest for a few minutes, pour the mushroom gravy over the top. Garnish with extra parsley if desired.
…The Backstory continues: I wish I could thank the giver of the recipe but sadly, she passed away several years ago. She was the mother of dear friend, who also passed away, way too young. He was a friend and then a boyfriend and he is thought of often, and deeply, truly, missed.
And so, we think of those we love through memories, songs on the radio, and sometimes, even through recipes. I know you will enjoy this one.
Please follow and like us: