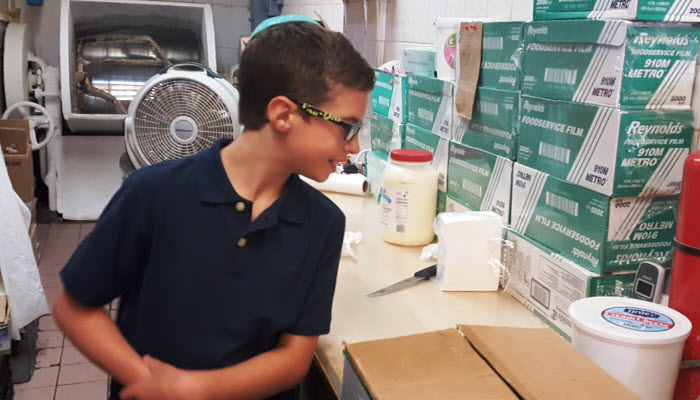 This is my father's bench.
The same bench where my father stood, leaned against, kibitzed from, schlepped hundred pound piles of dough onto, and expertly made hundreds of thousands of bagels by hand from 1970 to 1990. The same bench that had a Polaroid of me at age 12, and my Schnauzer, Mitzi, taped above it, just to the right, next to a one-dollar bill that I assume was one of the first my dad earned when the bakery opened.
Next to that picture and dollar bill hung a black rotary dial telephone from which my dad would call my mother periodically throughout the day and then, everyday, he would call his own mother, Marcia, for whom my son, Morgan is named. Every day. Like clockwork.
Forty-five years after the bakery had its grand opening, my son, Morgan, stood at my father's bench and my heart caught in my throat as the first 25 years of my life washed over me like a movie simultaneously in rewind and fast-forward with all of its scenes completely shuffled and bittersweet without my father there to witness it.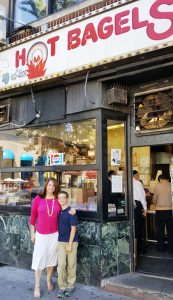 It had been 27 years since I stood in that very spot, yet I could still see my father fluidly rolling a bagel in his right hand, tearing it off from the long piece of dough in his left, and sliding it onto a cornmeal-covered board as if he had done it only moments before. I could hear the grains of cornmeal shifting on the board as the bagels slid into place, one by one, row by row.
I took my son to see the bakery he has heard so much about since he was a little boy and even more so since my father passed away four years ago. I wanted him to see Borough Park, the place in which I half-grew up, spending so much time at the bakery, working in the store alongside my dad, exploring the neighborhood, and taking in more Jewish culture and identity than I ever understood until I was an adult. Or maybe even a parent, if I'm being completely honest with myself.
I took him next door to Linicks Toys to buy a little something, to see the place my dad brought me to now and again for a bag of jacks or pick-up sticks. After we left, the owner came running out and found us in front of my dad's bakery. "Are you David's daughter?" he asked?
"Yes," I said, and I introduced him to Morgan and my husband, Rob.
He said his name was Ellie. I guessed him to be in his late sixties. He then turned to my son and said "I knew your grandfather. Such a nice man! Let me tell you–he made the most delicious salt bagels!. The line for his bagels went around the block! Such a wonderful man…." And he went on a little about the old days in Borough Park.
I looked at my son who was smiling shyly with his head down, hearing someone else gush about his grandpa the way his mom always did. My heart swelled and ached like the cliche this entire situation was.  I wanted to hug Ellie, but he was an Orthodox man, so I controlled myself. It wasn't easy. We said our goodbyes and I steeled myself for taking Morgan into the bakery.
I was determined to go in and be allowed to get to the back, to my father's bench. How I was going to make this happen, I wasn't sure. I did not know the owners and I wasn't certain they would let me and my nine-year-old son back there, but I needed to see my son standing where my father stood for so many years.
We took some pictures outside the store. I showed Morgan and Rob the exact place on the outdoor counter (which is a window, really, that opens to an outdoor counter) that I sat on in the summer of 1970, right next to a potted plant that someone gave as a good luck gift, on my dad's Grand Opening night. I can still remember the feel of the cold metal against my bare legs. I was six.
Finally, after several customers left, baby carriages in front of them and packages hanging from the handles, we walked inside. There was a woman in a purple silk headscarf at the counter and two women working by the oven. The woman at the counter looked at me with a blank expression. I explained that my father owned the store for 20 years and that I brought my son to see it for the first time.
Nothing.
I tried to show how meaningful it was to me. I became more animated. "I worked here and spent my childhood here," I explained.
Still nothing. Not even a smile. But one of the women by the oven was listening intently.
I turned to Morgan and then gestured to the back of the bakery. "Back there is where Grandpa made the bagels," I said to him. "Can you see the oven and that huge dough mixer?"
Before I could say another word, the woman who had been listening and watching came over.
A Hispanic accent:
"Come back. See everything, baby," she said to my son. And with that, she opened the small latch gate that had been there since I can remember and ushered the two of us in. The woman in purple looked annoyed but I never argue with success. We moved quickly.
I thanked her 50 times over and whisked Morgan to the back. I asked if I could take a few pictures. She said yes. I clicked away as my heart broke and beamed at the same time, wishing my father could see us.
I showed Morgan the bench and where my picture used to be. He wanted to know the exact spot on the wall so I guesstimated. I showed him the dough mixer and kettle and oven. I showed him the boards that my mother used to cut strips of burlap for, and explained how bagels are placed on them before going into the oven. I instinctively ducked below the oven to show him the buckets of seeds that I naively assumed would still be there since that's where my dad liked them (they were) and told him how I loved patting them onto the slippery bagels when they came flying off the world's largest slotted spoon (also in the same place) and down onto the shelf in front of the oven.
I soaked in the notion that Morgan and I were standing in a place that I had stood a thousand times before with my father–and that my dad was no longer with us. The thought almost made me weak in the knees. It seemed impossible. We walked back to the front of the store and back to the purple lady.
The same blank expression. I asked to purchase a dozen bagels.  She spoke. "How much a bagel was when your father, he first opened?"
"I think it was ten cents," I said. (My mother later confirmed this.)
"Now, $1.50 for bagel with cream cheese," she said. "Come at back 5:00. Meet owner."
We didn't return. We had gotten everything we came for.
Until Next time,

Jodi


Jodi Luber
Founder & Editor-in-Chief
TheJewishKitchen.com

Please follow and like us: