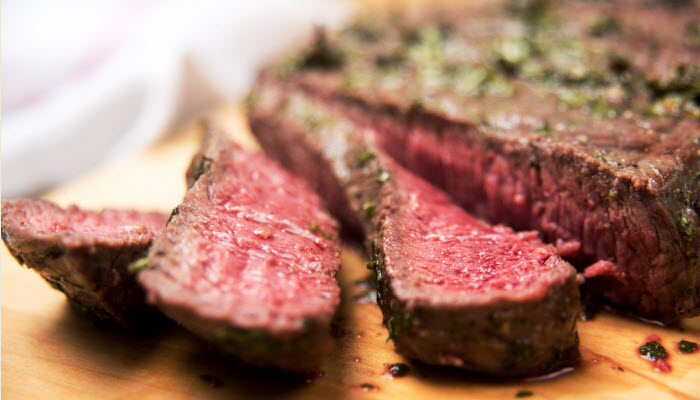 ---
The Backstory: When I was cooking for my family of four, I would often turn to this meat as a safe dish to make.  It's easy and was always a wiinner. My family enjoyed it and so did whomever was at my table when I barbecued it.   More of the Backstory after the recipe…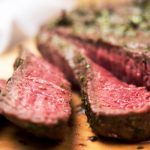 London Broil
Brown on the outside and slightly pink on the inside this is done to perfection. It smells as good as it looks because of the flavors of the marinade.
Total Time
2
hours
8
minutes
Ingredients
2

lbs.

Kosher Flank Steak

or london broil of your choice

1/3

cup

soy sauce

1/3

cup

canola or vegetable oil

2

cloves garlic chopped

1

tsps.

dried parsely flakes

1/2

tsp.

yellow or Dijon mustard

1

tbsp.

honey

1/2

tsp.

onion flakes
Instructions
Pat steak dry. Set aside. Put all ingredients (not the steak) into a 13 x 9.5 baking dish. Mix well. Add the steak, coat on one side, turn to coat other side. Cover dish with foil or clear wrap. Refrigerate for 2 hours or more. Turning the steak over at least once. Remove from refrigerator. Let steak rest for about 30 minutes.

Heat barbecue grill. Let coals get hot. When you go to remove steak from marinade let most of it drip off. Put steak on grill. Keep marinade. Grill 4+ minutes. Before you turn steak over brush top with some marinade. Turn and grill another 4+ minutes. Check to see if it is done to your taste. If more cooking time is needed.use your judgement..

Remove to a platter and cover lightly with foil. Let rest 5 - 10 minutes. Slice and serve.
…The Backstory continues: My son and I are beef lovers. The rest of the family, not so much but they managed to indulge their mom.  That is why I always wanted other people around to enjoy it as much as  my son and I did.  This London Broil is also budget-friendly. Oh, I know what you are probably thinking, "How could steak be economical?" Well, sliced thin and served with different side dishes it can be.
For an easy menu, try serving potato salad, coleslaw, baked beans, and some rolls.  With so much to eat, the meat will not dominate the plate.
I usually barbecued from the middle of March to the end of November.  Sometimes it was cold out and other times it was so hot, but weather did not deter me from firing up the grill.  This can also be made indoors using an electric grill or a stove top grill pan, or even in the oven. Try it.  I hope you enjoy it as much as my Sonnyboy and I did.
Please follow and like us: