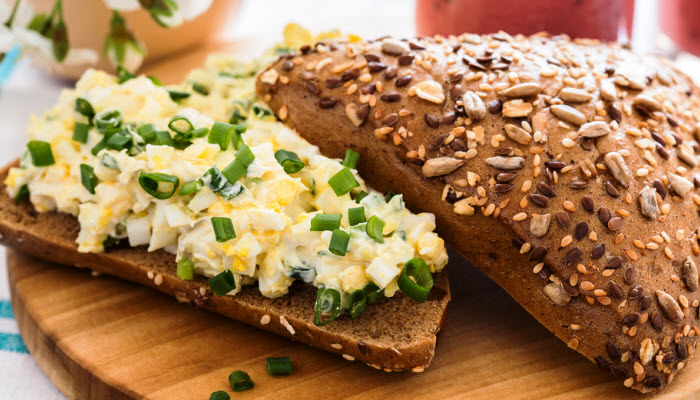 An oldie but goodie that's as creamy and delicious as ever.
The Backstory: This is a short, easy recipe with few ingredients. But it's different from regular egg salad. The story for this, however, is long.  I am going way back to when I entered junior high.  It was not called middle school then. We girls took a cooking class. The boys took shop classes More of the Backstory after the recipe…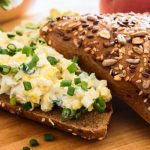 Chopped Egg Salad
The scallions are the taste sensation of this dish. It also adds the color to an otherwise bland-looking dish. Lets face it egg salad is pale especially with the mayo. I serve this on a bed of green. (Your choice of lettuces.) Add some tomato slices and it brings the dish to life.
Ingredients
6

large eggs hard boiled

Cut eggs into medium chunks

3+

tbsp.

mayonnaise

to taste

1/2

tsp.

Kosher salt

to taste

1/4

tsp.

freshly ground black pepper

to taste

3-4

scallions, sliced

green part only, add more scallion if needed
Instructions
Put eggs into large pot, add cold water to cover eggs. On medium heat bring to a boil. Leave pot on burner, but close off the heat. Cover the pot and leave on stove for about 8 minutes. Remove eggs from pot.

Take a large bowl and add some ice cubes and cold water. Add eggs to this and let stand 2-3 minutes. Remove eggs and crack egg one time, peel off the shells. Cut into medium size chunks. Place in a deep bowl.

Add mayo, salt, pepper and scallions. Toss with a fork, Do not mash. Adjust seasoning and mayo and mix well.

Serve in a sandwich or on a crisp bed of fresh lettuce.
.
…The Backstory continues: Besides learning how to cook, we were instructed in house cleaning chores, (i.e.how to make a bed, how to clean a bathroom, and how to set a dinning room table).  The setting for all this was basically a three-room apartment, in the school. The main kitchen was sectioned off into small cooking areas: stove, sink, etc. Four girls to each unit. We were given ingredients and instructions. We made many different dishes over the course of the term. This is one that I remembered and I make all the time. I hope you will enjoy it as much as I still do. Oh, I forgot to mention, we also made our own aprons.. My mom had this among her things, and when I found it, I could not believe she kept it for so many decades. Thanks mom.
P.S. I should mention and give credit to Ina Garten, The Barefoot Contessa.  Thanks to Ina, I finally learned how to make perfect hard boiled eggs. My eggs are cooked to perfection and are easy to peel. Just crack your egg one time.  The peel should be easy to remove.
Please follow and like us: