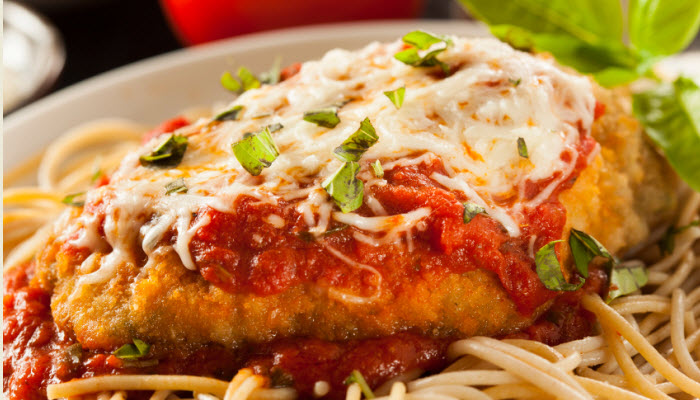 The Backstory: Picture this: it is 1956. I am 15 years old and sitting opposite from me, is my 18-year-old boyfriend (who later became my husband of 53 years, but that's another story).  We have been dating for about 2 months.  Every time we go out to eat, it's to the same Italian restaurant for the same food.  Pizza.  Now, I love pizza to this day, but come on, folks, it does get boring after awhile. When the waitress comes over to take our order, I look at her and ask, "Can I have a menu, please?"  Well, the boyfriend's mouth drops open and I say, "It's my treat, for all the pizza you paid for." More of the Backstory after the recipe…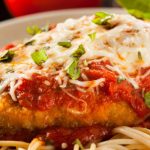 Chicken Parmigiana
Golden brown and smoothed in cheese, this is one of the best chicken dishes ever. The savory tomato sauce and zesty seasonings are a delight for your taste buds. The cutlets are also perfect for a sandwich the next day (if there are any leftovers!)
Total Time
1
hour
20
minutes
Ingredients
2 1/2

lbs.

Kosher chicken cutlets, pounded thin

veal cutlets can be used

1/2+

cup

flour

2

eggs beaten with 1 tbsp. water

1-2

cups

dried bread crumbs, seasoned

3-4

tbsp.

olive oil

6-8+

tbsp.

tomato sauce

from a jar or homemade

1-2

tbsp.

dried oregano

1+

16 ounce ball of Mozzarella cheese

slice to about 1/8 thickness

1/2

tsp.

Kosher salt

1/2

tsp.

black pepper

1/2

tsp.

paprika
Instructions
Prepare your stations to bread the cutlets: Put flour on a plate and add paprika, salt and pepper. Mix. Set aside. Put beaten eggs into a wide bowl. (I use a wide soup bowl for this). Set aside. Put breadcrumbs onto a plate or an oval bowl. If using plain breadcrumbs, add salt and pepper to taste. Set aside.

Have large platter ready for the next 3 steps. Dip a cutlet into flour, coat both side and shake off excess flour. Put cutlet into egg mixture and coat both sides, allowing excess egg to drip off. Put cutlet into breadcrumbs and coat both sides. Place on large platter. Set aside. Repeat the 3 steps, until all cutlets are breaded.

Heat oil in large skillet on medium-high heat. Fry cutlets for 2-3 minutes per side. Do not crowd skillet. Once fried on both side, drain on paper towels to absorb excess oil.

Preheat oven to 350 degrees. Line a large baking sheet with aluminum foil and place cutlets on foil. Top each cutlet with tomato sauce and a slice of mozzarella cheese. Cutlet should be covered with cheese. Add more cheese if need. Drizzle cutlets with a little olive oil and sprinkle with oregano.

Bake for 20- 25 minutes. Check at 20 minutes to see if cheese is melted. When cheese is melted, remove from oven and serve.
…The Backstory continues: I ordered Chicken Parmigiana with pasta and garlic bread.  For both of us. He loved it. When the check came, he insisted on paying for it.  And I let him.  After all, early that day I asked my mom for five dollars and now I could return it to her. She was reluctant to give me the money, anyway. My parents were not happy that I had a boyfriend.  Especially this one. I should have realized then that the boyfriend was the lousiest eater ever.  He never changed in all the years that we were married.
So, here's to you honey, for the zillion times I made this dish.
Please follow and like us: