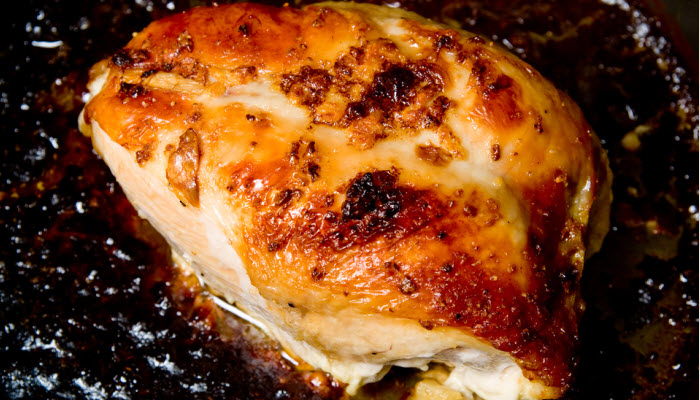 Honey Roasted Chicken Breasts
The Backstory: When I want something fast and easy, this is one of the dishes I turn to.  I always have  chicken breast in my freezer.  It seems most people like white meat chicken. Me? I always want dark meat chicken.. My mom used to say that there weren't enough legs on a whole chicken. I would scramble to get what I wanted before my other sisters took what I liked. Needless to say it turned into  bedlam with mom having to step in to settle the argument. More of the Backstory after the recipe…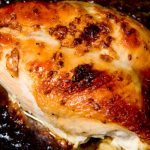 Honey Roasted Chicken Breasts
Roasted to a deep brown skin, (because of the honey) it is so pleasing to the eye. The smell of the honey dominates the rest of this easy chicken dish.
Ingredients
4

large bone-in chicken breasts

bake with skin on

1/ 4

cup

canola or vegetable oil

1

tsp.

paprika

1/2

tsp.

Kosher salt

1/2

tsp.

black pepper

1/2

tsp.

garlic powder

1

tbsp.

honey
Instructions
Preheat oven to 350 degrees. In a small bowl, mix together paprika, salt, pepper and garlic powder. Add the oil and honey and mix well. The mixture will be very thick. Set aside.

Line a baking sheet pan with aluminum foil. Place a wire rack on top of the foil and place chicken breasts on rack. Spoon mixture on top of each breast. Bake for about 40 minutes. Test to see if chicken is done by inserting a knife and making sure the juices run clear. If more time is needed, bake until done.

Remove from oven and let rest for about 5 minutes.
…The Backstory continues: It took me a long time to  acquire my taste for the white meat. Now, since I eat both kinds, I do prepare them the same way.  It's your choice. I like to serve this with lima beans, or peas, rice pilaf and a salad. That completes an easy and last minute meal. It is good enough for the pickiest eater or the guest that likes so-called "gourmet" dishes.
It is also the way you plate a dish. People eat with their eyes first. Since presentation is everything, I use a lot of fresh parsley for decoration.
Please follow and like us: