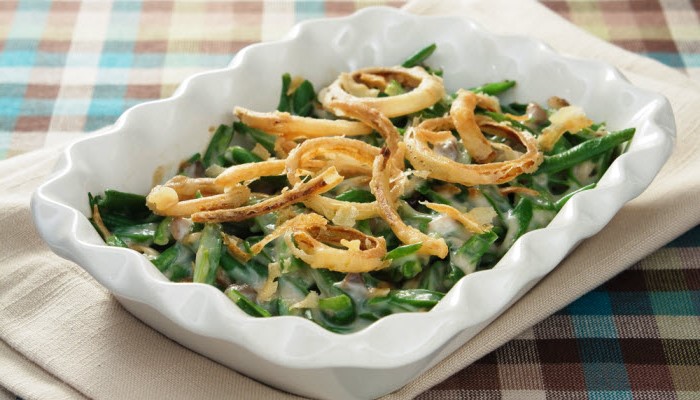 The Backstory: For over 50 years I have been making this casserole and I know that many, many people make it for Thanksgiving, but my father loved it all year round. I have prepared this for almost every holiday dinner that he attended.  Years after he died, I tried to keep the tradition going in his honor. The adults in the family love this dish, the kids not so much. However as they aged some of them changed their minds and did indulge in this yummy creamy veggie side dish. I do not know where I first got the recipe, but I do have an old cookbook from the Campbell's  company who are always featuring the recipe at Thanksgiving who are also the makers of Cream of Mushroom soup that the recipe calls for, so it's logical to put two and two together. More of the Backstory after the recipe…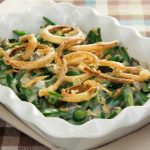 Green Bean Casserole
This traditional Thanksgiving side dish combines green beans with a crispy fried onion topping. It's also perfect any time of year when you want a comforting vegetable side dish. Go right ahead and taste the richness of the beans nestled in the cream of mushroom soup. Indulge!
Ingredients
1

10.5 oz. can Cream of Mushroom soup

3/4

cup

Whole milk

1/8

tsp.

ground nutmeg

or grate 5 swipes of fresh nutmeg

2 1/2

14 oz. cans, cut green beans, drained

frozen or fresh can be substituted

1

10.3 oz. can of French's Fried Onions
Instructions
Preheat oven to 350 degrees. In a large bowl, mix together soup and milk. Add nutmeg and stir. Add green beans and mix.

Pour into a 1 1/2 - 2 quart casserole dish . Bake for 15 minutes.

Remove from oven and cover the top of the casserole with fried onions. Do not mix into casserole. Bake for an additional 15 minutes. Check to make sure onions do not burn. Remove from oven and let rest for 5 minutes and before serving.
…The Backstory continues: Well, my Campbell's cookbook has been packed away for many years,  but I've been making this casserole forever. I have made a few variations with the veggies too. You can make this beautifully with string beans, broccoli  or any other veggies that you like. It is so easy to make and the friend onions on top give it the perfect amount of crunch. With all the new cooking fads that seem to pop up these days, it's nice to find something at the table that has withstood the test of time.
Note.  To make this Kosher eliminate the soup and check out (on this site) Soy Milk Cream of Mushroom Soup, recipe.
Please follow and like us: