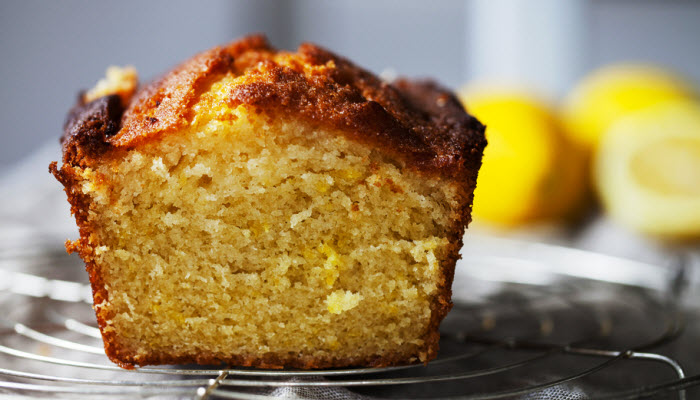 The Backstory: In the sixth grade, I took a home economics class where I learned to set a table for four and to cook three things: cinnamon toast, grilled cheese, and chocolate chip cookies. Not such a bad class for a 12-year-old, considering I still make all of those things for my kids today, and in fact, just made cinnamon toast for my son, this morning, before he headed off to camp. More of the Backstory after the recipe…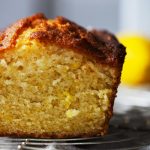 Lemon Loaf
This gorgeous, tart, light, and slightly sweet cake offers the perfect balance of flavors and is just right for a cup of coffee, tea, or an afternoon snack. It's a wonderful cake for brunch, gift giving (it's so pretty tied up with a ribbon), and it's even a favorite with kids.
Cook Time
1
hour
15
minutes
Total Time
1
hour
25
minutes
Ingredients
For the Cake
2 1/4

cups

all-purpose flour

3/4

tsp.

Kosher salt

1 1/2

tsp.

baking powder

1 1/2

cups

sugar

3/4

cup

butter at room temperature (1 1.2 sticks)

1

tbsp.

lemon zest

3

eggs

3/4

cup

milk
For the Lemon Glaze
2

tbsp.

sugar

4 1/2

tsp.

fresh lemon juice
Instructions
Preheat oven to 350 degrees. Grease a 9 x 5 loaf pan.

In a large bowl, mix the flour, salt, baking powder, an sugar with a fork. With two knives or a pastry blender, cut in the butter until the mixture looks like large, coarse crumbs. Mix in the lemon zest.

In a separate bowl, beat the eggs and add the milk and stir together. Add this to the flour mixture until just moistened. Pour the batter into the prepared pan.

Bake for 75 minutes. Place a piece of wax paper under a wire rack to catch any excess lemon glaze. Remove cake and cool on wire rack for 10 minutes still in pan. After 10 minutes, remove from pan and let sit on rack while you make the glaze.

In a small sauce pan over medium high heat, combine the lemon juice and sugar to boiling. Continue to cook until slightly thickened for about 5 minutes. Use a pastry brush to brush the mixture over the top of the cake. You can serve this warm or at room temperature. Dust with Confectioner's sugar if desired and serve with fresh berries.
…The Backstory continues: However, during class one day, the teacher, a very stern-looking Mrs. Irons, commented that if perhaps we took our cooking seriously, we might progress to "real baking" in the kitchen and prepare things such as "Lemon Loaf" for a Sunday brunch or tea. I was intrigued. So much so that I asked her what a lemon loaf was, considering I had been in and around my dad's bakery for a good five years at this point, and had not yet encountered such a thing.
She gave me a mimeographed (yes, I'm ancient) copy of the recipe below and suggested (more like sneered) that I try it at home with my mother. Then she turned back to the class. Why I kept it all these years, I'll never know. Why I never tried it with my mother–this I know (sorry, Mom!). Mom was not (still isn't) a baker. If she's reading this, she is shaking her head in agreement. That said, she did roll a few dozen chocolate very fine truffles with me for my high school French fair, so I will give her major props for that.
However, I first made this lemon loaf circa 1988 and I have been making it consistently ever since. It is delicious! Who knew Mrs. Irons had it in her? Well done! This is my go-to lemon poundcake, if you will, and I love, love, love this recipe. The only changes I made to the original recipe (and they aren't changes, they're just garnishes) are a simple dusting of Confectioner's sugar at the end and some fresh berries on top, just before serving (otherwise, they will stain the cake).
This is a light, moist, (lemon) zesty cake that is truly outstanding. A+ for Mrs. Lyons. I underestimated you.
Please follow and like us: