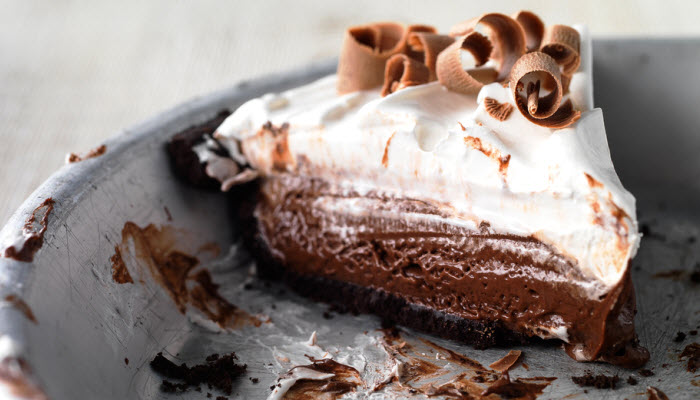 An old-fashioned, chocolaty classic that deserves its place in history. It's. That. Good.
The Backstory: There must be something wrong with me because I'm physically restraining myself from getting out of this chair, baking this pie, and feeding it to someone as quickly as humanly possible. I can't tell you how often this comes over me: the urge to bake–not one–but two, three, four different pies, cakes, cheesecakes, trays of cookies, whenever the mood just hits me. In this case, I started thinking about chocolate cream pies, how my father used to adore them (his Yahrtzeit is next week, so I have Dad on the brain) and all I want to do is make chocolate cream pies. More of the Backstory after the recipe…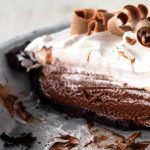 Chocolate Cream Pie
Total Time
3
hours
30
minutes
Ingredients
For the Crust (for a 9 inch pie)
1 1/2

cups

chocolate wafer cookie crumbs (about 18 cookies)

1/3

cup

melted unsalted butter

1/4

cup

sugar
For the Filling
3

eggs, separated

3/4

cup

sugar

1

cup

water

1/2

tsp.

Kosher salt

2

squares unsweetened chocolate

1

envelope

unflavored gelatin

1/2

tsp.

pure vanilla extract

3/4

tsp.

cream of tartar
For the Whipped Cream Topping
2

cups

whipping cream

2-3

tsp.

sugar

(more as desired)

reserved cookie crumbs (optional)

chocolate shavings (optional)
Instructions
Make the Crust
Preheat oven to 375 degrees. In a medium bowl, mix the cookie crumbs, sugar, and melted butter with a fork. If you are going to use cookie crumbs to garnish the pie, set aside a few tablespoons of the mixture.

Press the remaining mixture into a 9-inch pie pan, covering the bottom and sides of the pan, going as high as you can up the edge, making a small edge or rim. Bake for 8 minutes and then cool on a rack while you prepare the filling.
Make the Filling
In a deep 2-quart saucepan, mix together the egg yolks, water, sugar, salt, and water with a fork. Add the chocolate squares and the gelatin over the top of the mixture. Cook on medium heat, stirring until the gelatin dissolves and all the chocolate is melted. Remove from heat and stir in the vanilla.

Pour chocolate mixture into a large bowl. With a hand mixer at high speed, beat for one minute. The mixture may look a little speckled (like malt) but that's okay. Chill in the fridge, stirring every 15 minutes, for about 45 minutes.

With a handheld mixer at high speed, beat egg whites and the cream of tarter until soft peaks form. Turn the mixer on high and gradually add in 1/4 sugar until the peaks are stiff. Set aside.

Take the chilled chocolate mixture and beat it until fluffy, about 2 minutes. Use a wire whisk to gently fold in the egg whites until well combined. Pour the mixture into the piecrust and refrigerate for 3 hours.

Just before serving: With a handheld mixer or in the bowl of a standing mixer, beat the whipping cream at high speed until medium-stiff peaks form, adding a little sugar at a time. Taste the whipped cream and adjust the sugar (add a little more if you like) depending upon your desired sweetness. Spread loosely over the pie. Garnish with chocolate shavings (if desired) and the reserved cookie crumbs (optional).
…The Backstory continues: About 10 minutes away from my father's bagel bakery in Borough Park, Brooklyn, was an amazing Italian bakery. We would stop there (often) on our way home from his shop when he too, was craving said chocolate cream pie, and as I mentioned in previous posts and recipes, I would just oogle the rows and rows of eclairs, Charlotte Russe, Napoleons, and pastel butter cookies dipped in chocolate and rainbow sprinkles, while the clerk boxed up (and tied with string!) our chocolate cream pie. I remember the bright Maraschino cherry in the center of it the pie, the chocolate shavings that dotted the mounds of whipped cream piled on top, and how much I wished my father would let me carry that box to the car.
Alas, as I was the family klutz and there's a great story involving me, a flight of stairs and a lemon meringue pie that shall not be mentioned here, common sense (smartly) prevented my dad from giving me that honor.
Nonetheless, the chocolate cream pie is near and dear to my heart and this recipe is truly delicious. It comes from my dear friend, Carla, in Chicago, who was my partner in crime in all those cocktail parties back in the late 90's. If those kitchen walls could talk. Enough said.
FYI, I use a chocolate wafer cookie crust but you can certainly use a more traditional graham cracker one if you prefer.  Enjoy.
Please follow and like us: