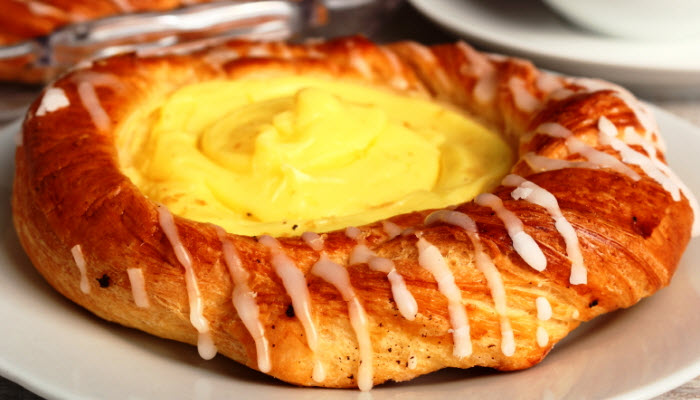 Who doesn't love a good cheese Danish? Now you can make them at home.
The Backstory: Oh, how my father loved a good cheese danish. The sweeter, the better. The more icing, the better. The fresher and more able to pull apart (there's that baker thing again), the better. I must admit: I never had a love affair with danish when I was a kid or a teenager or even a young adult. They just didn't reach out and grab me when I had black and whites  and jelly doughnuts to contend with. But as an adult? Well, let's just say there'a reason there are three sizes in my closet. I've yet to encounter a cheese danish I don't want to devour. That is, a good cheese danish. More of the Backstory after the recipe…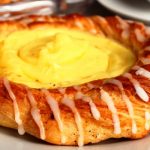 Decadent Cheese Danish
Ingredients
2

sheet

thawed puff pastry (1 box)

place frozen puff pastry in fridge overnight to thaw

1

8 oz. block of cream cheese, at room temperature

4

tbsp.

sugar

1

tsp.

pure vanilla extract

1

tsp.

fresh lemon juice

1/2

tsp.

lemon zest

1

egg beaten, plus a little water (for egg wash)

1

cup

confectioner's sugar

3-4

tbsp.

milk

(depends on how thin/thick you prefer your icing)
Instructions
Preheat oven to 400 degrees. Spray two baking sheets with non-stick baking spray or line with silicone baking mats or parchment paper. Set aside.

With a handheld electric beater or in the bowl of a standing mixture, beat cream cheese and sugar on low until combined. Add vanilla and mix together. Add lemon zest and juice and mix again. Chill in refrigerator until ready to use.

Lightly flour the counter or board and remove the puff pastry sheets from refrigerator. Unfold one sheet and with the short side facing you, cut it lengthwise into 6 strips using a very sharp knife or a pizza wheel. Repeat with the remaining pastry sheet, making a total of 12 strips total.

Twist 1 pastry strip and then carefully coil it into a spiral so it looks like a circle. Transfer it to the baking sheet. Tuck the end of the spiral (the extra piece of dough) under the bottom of the Danish. Repeat with the remaining strips. Make an indentation in the center of each Danish and add two tablespoons of the cream cheese filling.

In a small bowl, beat egg and add a teaspoon or two of water. Brush the egg mixture over the Danish.

Bake for 15 -17 minutes or until golden brown. Move to wire rack.

While Danish are baking, make the glaze: mix 3-4 tbsp. milk with 1 cup of Confectioner's sugar and drizzle over still warm Danish. Enjoy!
…The Backstory continues: This recipe is a quick and easy fix for your cheese danish cravings. I was going through a puff pastry phase back in the mid and late 90's when I lived in Chicago and was hosting weekend after weekend of cocktail parties (out of my tiny, one-bedroom apartment). Every weekend I would roll out sheets of puff pastry and fill them with savory things like goat cheese, mushrooms, homemade marinara, chopped basil and other herbs for an easy, last-minute appetizer. Then I started experimenting with combinations of cheeses, preserves and chutneys and fell in love with that whole sweet/savory thing. (I served a lot of baked brie and apricot preserves in puff pastry in those days and it would literally be gone almost before it hit the table. I highly recommend it).
It wasn't long before I started making sweet filled pastries and cheese danish was a natural to whip up. A little cream cheese here, some lemon zest there, a bit of vanilla, and voila, you've got a delicious brunch or breakfast treat in no time. It is also very easy to incorporate fruit into this with a dollop of your favorite preserves right after the Danish come out of the oven and are still warm–just add few spoonfuls of your favorite preserves (not jelly or jam–too watery) right on top of the cheese and let the heat from the warm, sweet cheese, do its thing. The sweet preserves with adhere right to cheese and set nicely.  Just let it sit for another 10 minutes or so before serving.
Wish you were here, Dad. I'd make you a fat cherry and cheese combo right now.
One Caveat: Frozen puff pastry must be thawed completely before using, so before you go to bed, pop the box in the fridge and they'll be soft and pliable in the morning. Then you can dream about what you'll be eating for breakfast or brunch the next day.
Please follow and like us: