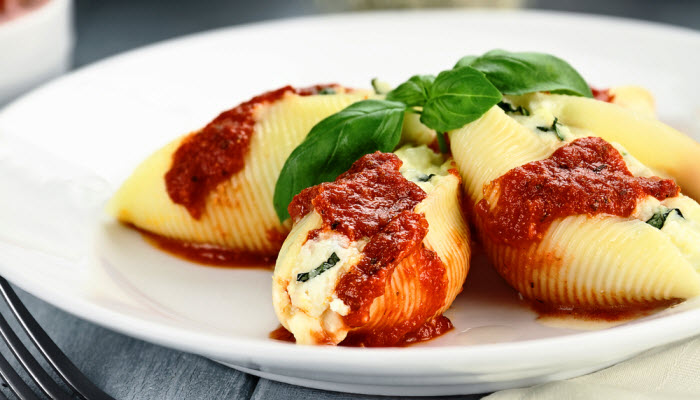 The Backstory: It's funny how just about every culture and cuisine has some type (or numerous types) of filled pasta. From kreplach to ravioli to pierogis to shumai and dumplings, people around the world seem to love their noodles and love them stuffed with delicious cheese, meat and vegetable fillings. More of the Backstory after the recipe…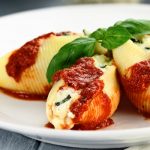 Stuffed Shells
Rich, creamy ricotta and mozzarella cheeses combine to make the perfect filling for large pasta shells. The shells are covered in a savory marinara sauce and then baked in the oven. Perfecto!
Ingredients
2

tbsp.

olive oil, plus more for drizzling

1/2

medium onion, diced

2

garlic cloves, minced

2

6 oz. cans tomato paste

1

28 oz. can San Marzano whole peeled tomatoes

use tomatoes and liquid

1 1/2

tsp.

Kosher salt

1-2

tbsp.

sugar

1/2

cup

chopped fresh basil leaves

1

cup

water

more may be needed

2

eggs

1

lb.

whole or part skim ricotta cheese

1

lb

package or block of mozzarella sliced, cut into chunks

2

cups

shredded mozzarella cheese

1

package

large pasta shells (about 30 shells)
Instructions
Heat oil in a large pot on medium heat. Cook onions for about 10 minutes until translucent but not brown. Add garlic and cook for another 2-3 minutes.

Add tomato paste. Add liquid from the tomatoes and then , use your fingers to squish tomatoes as much as you can before dropping them into the sauce. Mix well and then add one cup of water.

Add salt, sugar, and chopped basil. Stir sauce. If sauce is too thick for your liking, add more water, starting with a half cup at a time, and stir after each addition, to get the consistency you like.

While sauce is cooking, in a medium bowl, combine ricotta, eggs, and chunks of mozzarella. Set aside.

Preheat oven to 375. Fill a large pot with water and a pinch of salt. Water level should be enough to cook pasta. Bring water to a boil. Cook shells according to package directions. Do not overcook as shells will still have to bake in the oven.

When pasta is cooked, drain but do not rinse. Allow pasta to cool slightly in strainer before moving on to next step so you don't burn your hands when stuffing them. In the meantime, take a large baking or lasagna pan and put a layer of sauce on the bottom.

To stuff shells, take a tablespoon of cheese filling and put inside each shell. Do not over stuff or filling will leak out during baking. Place in pan. Continue with each shell, placing them closely together in baking pan until all shells have been used.

Cover shells with marinara sauce. Top sauce with a layer of shredded mozzarella cheese. Drizzle with olive oil. Bake uncovered for 30 minutes or until cheese melts.

Check at 15-20 minutes to make sure cheese does not burn. Serve immediately.
Recipe Notes
Note: Use your favorite store-bought sauce if you don't have time make the marinara sauce.
…The Backstory continues: Stuffed shells are a common Italian dish that found its way into many Jewish homes, especially those in and around New York and the Northeastern seaboard of the U.S., where Jews and Catholics of Italian descent lived side by side. As these families grew up together and became friends, naturally, they started to share recipes, spend holidays together, and learn about each other's food, culture, and holidays. As newer suburban communities developed around New York's five boroughs, so did many shopping malls, restaurants (especially family restaurants), where Italian cuisine was abundant, and family recipes were on the menu. One of the most well-known and beloved dishes on many an Italian restaurant menu is stuffed shells, and for good reason: pasta, cheese, and sauce. What's not to love?
This is also one of those dishes that's extremely easy and quick to make at home, once you've mastered the art of marinara sauce. The good news is that you can freeze the sauce for future use and the rest of the recipe takes only minutes to put together. I also have to admit that I'm partial to using a combination of fresh mozzarella and shredded packaged mozzarella here and I think it makes a difference in the recipe.  I make this dish often for my family, especially during winter months, and I make a large batch, because this is one of those meals that my children absolutely love and they readily dive into.
Serve with a crisp green salad, some crusty bread, and you will have a family favorite for years to come.
Please follow and like us: