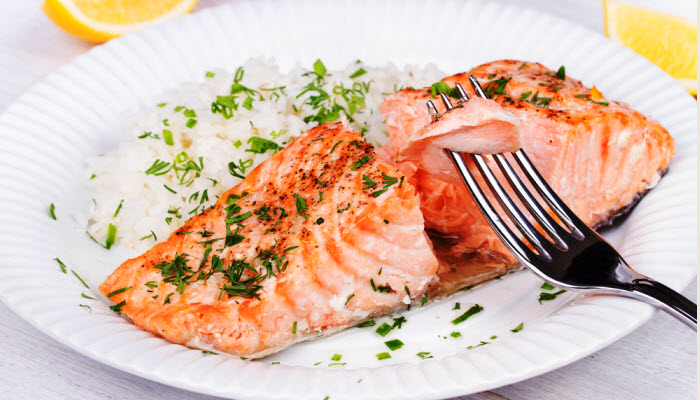 My son made this for me a few years ago. It is absolutely delicious–light, flaky and perfectly seasoned and cooked to perfection. I find that this method of preparing Salmon has become my favorite way of indulging in this delicious fish. Easy to make and oh, so tasty it has become my go to when serving this to family and friends. Pouching keeps this moist and very easy to digest. Who knew that my son could create not only this dish but many others that I have totally enjoyed.
As a child, he was the worst eater a mom could have.  It was difficult trying to get him to eat  anything. I simply gave up. This called for a trip to his pediatrician,  who  told me to leave him alone, he wouldn't starve to death.  I followed his advice.  As he got older, he started to eat better, and expand his taste in foods. And boy, can he eat.  At times when he was a teenager, I thought it was cheaper to clothe him than to feed him. That led him to the kitchen were he started to cook, and today he is an  excellent cook. I guess miracles can happen.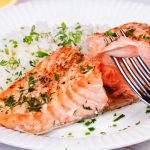 Salmon in a Pouch
The salmon pouch holds in all the flavors. But when the pouches finally open, the aroma from the lemon and garlic fills the kitchen with their savory fragrance.
Ingredients
4

6-8 oz salmon

1/2

tsp.

Kosher salt

1/2

tsp.

black pepper

8

slices of lemon

1

tbsp.

dried parsley flakes

crush with your fingers to release the oils

2

tbsp.

chopped garlic

2

tbsp.

canola or vegetable oil

8

sprigs of dill

4 sheets of aluminum foil
Instructions
Preheat oven to 375 degrees. Take sheets of aluminum foil, about 8 inches wide. Brush a little oil on center of foil and place a piece of salmon on top.

Mix together the salt, pepper, garlic, and parsley. Sprinkle seasonings on top of salmon. Put 2 lemon slices and 2 sprigs of dill on top of each piece of fish. Drizzle with oil. Bring foil around fish, making a tight seal. The pouches can now be put on a large baking sheet. Put into oven for 17 minutes.

Carefully open the pouches as some steam will be released. This will be extremely hot so be careful. Serve immediately.
Please follow and like us: