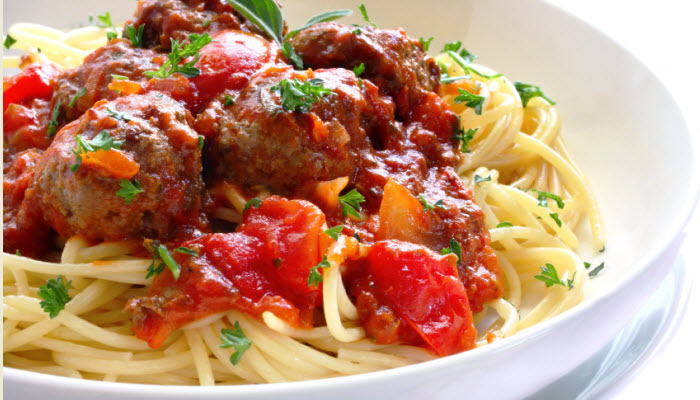 It might not be Jewish food, but who doesn't love this classic dish?
The Backstory: One of the first things I learned to cook after I was married was tomato sauce. I had never cooked Italian food so I had to get detailed information from my sister.  She made sauce all the time.  The recipe I am passing on is basically the same that she gave me back in 1959.  Of course, I made some modifications over the years, but as a new bride, I followed her recipe exactly.  It was very tasty and my husband loved it. More of the Backstory after the recipe…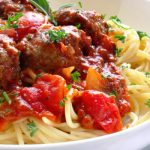 Spaghetti and Meatballs
The seasoning in the sauce and the meatballs adds that extra zest to the spaghetti. Plated on a large platter it is very pleasing to the eye.
Total Time
1
hour
30
minutes
Ingredients
1

28 oz. can San Marzano whole peeled tomatoes

1

8 ounce can tomato sauce

1

6 ounce can tomato paste

10 ounces of water, divided

2

tsp.

Kosher salt, divided

1

tsp.

black pepper, divided

1/2

small onion, chopped

1

clove garlic chopped

6-8

chopped fresh basil leaves

3/4

lb.

Kosher ground beef

always use equal amounts of meats

3/4

lb.

Kosher ground veal

1

egg, beaten

1/4+

cup

unseasoned bread crumbs

2

tbsp.

olive oil plus more for drizziling

1 1/2

boxes of spaghetti

1

tsp.

sugar

1/4

tsp.

garlic powder
Instructions
Preheat oven to 325 degrees.

Line large baking sheet with aluminum foil. Set aside. Put the ground beef and ground veal in a large bowl. Add 1 tsp. salt, 1/2 tsp. pepper, bread crumbs, 1/4 cup water and garlic powder. Mix with your hands. Make meatballs and place on baking sheet. Bake for 20 minutes. Remove and put meatballs on paper towels to drain off any liquid.

In a large stock pot, heat oil on medium heat. Add onion and garlic and saute until slightly translucent. Add the tomatoes, tomato sauce, tomato paste, 6 ounces of water, salt, pepper and sugar. Stir for a few minutes till heated.

Add the meatballs to the sauce. Cook for about 1/2 hour on low-medium heat. Add basil. Cook about another 1/2 hour. Remove from heat.

Prepare spaghetti of you choice and drain well. Using a large platter, put spaghetti on first, Drizzle a little olive oil, add the meatballs and some sauce. Serve remaining sauce in a gravy boat.
…The Backstory continues: Even though it is Italian style,  I did use Kosher beef and veal to make the sauce and this recipe can be adopted by using all Kosher products.  Regardless of how you chose to incorporate this, you will certainly have a fabulous meal. This recipe may seem to use a lot of ingredients, but it assembles very quickly.  My advice? Make the meatballs first and while they are cooking in the oven, prepare the sauce to make the best use of your time. Once you master this recipe, you'll know it like the back of your hand and it will be seamless and easy to make the next time. It's completely worth the effort and absolutely scrumptious every time.
Please follow and like us: