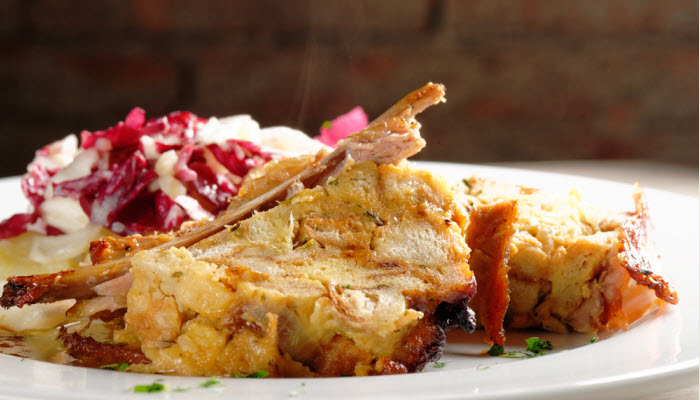 The Backstory: It was a rarity when my mom made this delicious Stuffed Breast of  Veal dish. I do remember that when I first tasted the veal it was love at first bite. When I started cooking, I  must admit I didn't make it often because it's a time-consuming recipe, and with two kids to take care of, I was all about convenience and saving time. But, when I wanted to really pull out all the stops and make an elegant dinner (and impress a crowd…) this was one of the recipe I turned to. More of the Backstory after the recipe…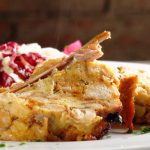 Stuffed Breast of Veal
Stuffed breast of veal is one of the most savory, tender, and delicious stuffing and meat combinations you can imagine. The seasonings and stuffing have so much flavor but they do not distract from the tender cut of the veal.
Total Time
2
hours
30
minutes
Ingredients
1

7 lbs. Breast of Veal

Have your butcher cut a pocket in the veal

1

box of unsalted premium crackers

Use 2 - 3 sleeves of crackers. Break into small pieces.

3+

cups

boiling water

chicken stock can be substituted

1

cup

medium onion, diced

2

large carrot grated

1

cup

celery, diced

1

tsp,

Kosher salt

divided.

1/2

tsp.

black pepper

1/2

tsp.

paprika

1

tsp.

garlic powder

divided

1

box of button mushrooms

cleaned and cut into small pieces

1

tbsp.

fresh chopped dill

1

tbsp.

chopped fresh parsley

2-3

tbsp.

canola or vegetable oil, plus some for drizzling

1

large

egg, beaten

1

clove garlic chopped
Instructions
For the Stuffing
In a medium saucepan, heat oil on low heat. Saute onion and celery for about 2 minutes. Add carrot, 1 tsp. garlic, parsley, dill and mushrooms. Stir and cook for about 3-5 minutes. Adjust seasonings to taste. Set aside.

Put crackers in a deep bowl and slowly add the boiling water. Mix together. The texture should be a little mushy. If more water or crackers are needed, add now. Set aside and cool. When cool, add the egg, salt and pepper. Add in the cooked veggies and stir. Set aside.
For the Veal
Heat oven to 375 degrees. Place veal in a large roasting pan with a rack underneath. Stuff the stuffing mixture into the pocket. If you have leftover stuffing put into a baking dish and bake uncovered for about 30 minutes. Secure pocket with skewers. Sprinkle paprika and garlic powder on top of veal and rub into meat. Drizzle a little oil on top. Add some water to bottom of the pan. Do not put any water on the veal. Cover loosely with aluminum foil. Place in oven.

Lower heat to 350 degrees and bake for 30 minutes. Baste often using the pan drippings. If more water is needed add some to roasting pan. Cook for 1 1/2 hours, basting often. Remove aluminum foil and bake another 30 minutes. Check with a thermometer to make sure internal temperature is 175 degrees. Remove from oven.

Let rest at least 15 minutes before slicing.
…The Backstory continues: If you really want something that will wow your family and guests, this is up there with the other so called fancy dishes like Beef Wellington and Beef Bourguinon (Burgundy).   Surprisingly, this is an economical cut of meat.  Perhaps it is because of the bones and the amount of meat the veal actually yields.  So just remember to buy a larger cut of the meat. There are variations with the stuffing part of this dish.  For Passover, I use matzoh instead of crackers.  Use the stuffing  of your choice and feel free to experiment. This stuffing is my mom's, and I use the same stuffing for my turkey at Thanksgiving as well as for any of my chicken recipes.
I know you will find this recipe absolutely delicious and as elegant as all get out. It really is a showstopper and worth the time.
Please follow and like us: