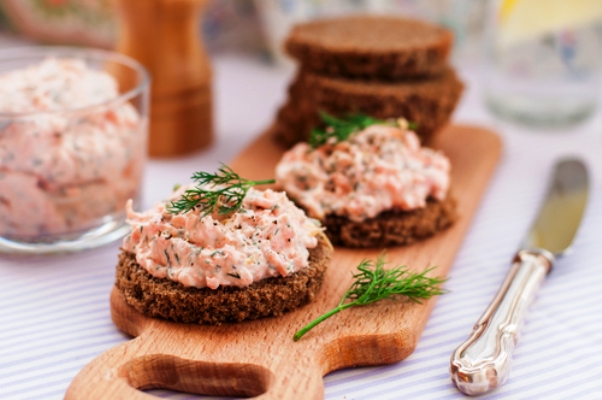 Kosher salmon dip uses canned salmon (a fab shortcut) for an easy, make-ahead appetizer your guests will love.
The Backstory: My grandmother always had canned salmon in her pantry and I always wondered what she did with it. I never saw her make sandwiches with it and she always bought fresh lox from her fish monger, so where did all the canned salmon go? And then I remembered her kosher salmon dip. I'm surprised it took me that long to put two and two together–I just never associated this delicious dip with canned salmon. More of the Backstory after the recipe…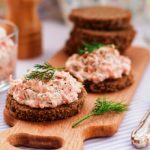 Old Fashioned Salmon Dip
Savory salmon is mixed with a creamy sauce to make a delicious dip that's perfect for crackers, crudite or as a spread on pumpernickel or rye bread rounds. Perfect for a party or as a snack.
Ingredients
3

5 oz. cans salmon in water drained

Kosher Redhead wild Alaska sockeye salmon

2

tbsp.

lemon juice

1/4

cup

scallions, diced

1/4

cup

cucumber, diced

peeled or unpeeled

1/2

cup

mayonnaise

you can add more or less to your preference

1

tbsp.

cider vinegar

1/2

tsp.

paprika

pinch of freshly ground black pepper

dash Tobasco sauce

chopped dill for garnish (optional)
Instructions
Drain salmon and put into a large bowl. Flake well with a fork and mash so that the salmon is in mostly small, fine pieces.

Add the vinegar, scallions, and cucumber and mix well. In a small bowl, combine the mayonnaise, lemon juice, Tobasco sauce, paprika and a pinch of freshly ground black pepper. Add to the salmon mixture and combine until everything is well coated. Taste and adjust with more mayonnaise if necessary.

Refrigerate until ready to serve. Serve with crackers, crudite and small rounds or squares of pumpernickel or rye bread. Garnish with dill (optional).
…The Backstory continues: This is so easy to make and it's perfect with crackers (where would Jews be without our Ritz crackers, I ask you?) and it's delicious on those little squares of rye or pumpernickel bread that you can get for cocktail parties. It's even good on date nut bread. I know that sounds crazy, but it's true.
This takes just a few minutes to make but it has to be thoroughly chilled before serving.
Please follow and like us: