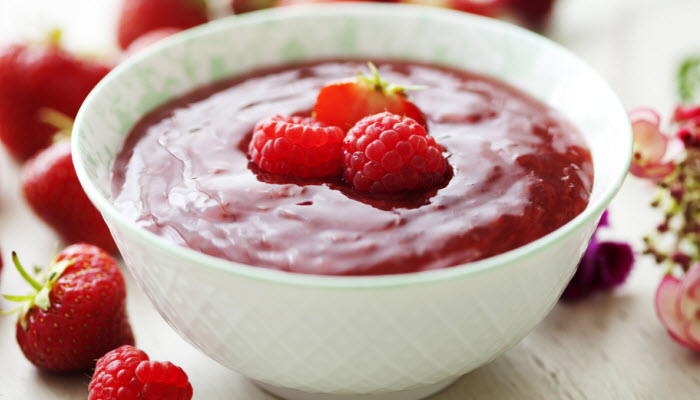 Cold raspberry soup is tart, sweet, refreshing, and a perfect first course for a summer meal. This is also a beautiful appetizer served in shot glasses on trays or even in pretty tea cups for bridal or baby shower.
The Backstory: I first had cold raspberry soup at a friend's rehearsal dinner, some 25 years ago. It was just about the most delicious thing I had ever eaten and I was completely surprised when it was served to me as a first course at her dinner. Her parents had taken over a lovely restaurant on Long Island, close to the beach, and from the outside, the place seemed very New England-y, and what I thought would be casual-cottage style dining. Maybe some grilled fish, a few glasses of champagne, a nice sorbet for dessert. More of the Backstory after the recipe…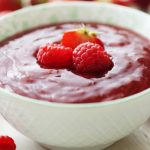 Cold Raspberry Soup
Sweet, tart raspberries are the star of this deliciously refreshing soup. Port gives the soup deep depth of flavor although much of it cooks out during the cooking process. This is a delicious first course for brunch or a special occasion.
Ingredients
4

10 ounce packages of frozen raspberries, thawed

2

cups

port wine

Carmel Vintage Kosher Wine

4

cinnamon sticks

2

tsp.

cornstarch

1/2

cup

water

fresh raspberries for garnish

fresh mint for garnish (optional)
Instructions
In a large, deep saucepan, heat raspberries, port, and cinnamon sticks over medium heat. Bring to a boil and then reduce heat to low. Continue to simmer for 10 minutes.

In a large measuring cup, mix together the water and cornstarch. Slowly add this into the soup until it begins to thicken, stirring constantly.

Once mixture has thickened, remove from heat. Place in a glass container and cover and refrigerate for several hours before serving. Remove the cinnamon sticks before serving. Garnish with fresh raspberries and mint if desired.
I could not have been more wrong.
Guests were greeted with a tall flute of champagne with a succulent dark purple plum at the bottom of each glass. White-gloved waiters passed around blinis with smoked salmon, skewers of grilled chicken and roasted vegetables, and the most delicious stuffed mushrooms I've had to this day. I have no idea what they were stuffed with, only that they were drizzled with truffle oil (or so said the server when I asked). Outrageous.
When we were seated, the servers came around and placed in front of each guest, a tall parfait-like dish filled with what looked like a raspberry smoothie. It had three plump raspberries in the middle and a sprig of mint. "Your soup, Mademoiselle," the waiter said, and off he went to the next guest.
I'd never had a fruit soup before and thought it looked more like a dessert. I could not have been more wrong. It was heaven. Sweet, but not too rich, light, slightly tart, and just about perfect on a hot summer night. Twenty years later, I served a melon soup with basil (to die for) at my own first (oops) wedding. It was a promise I had made to myself after having the raspberry soup all those years ago.
My first marriage didn't last (but I did it right the second time!) and this recipe is still a favorite.
Note: This recipe contains alcohol and is not appropriate for children.
Please follow and like us: