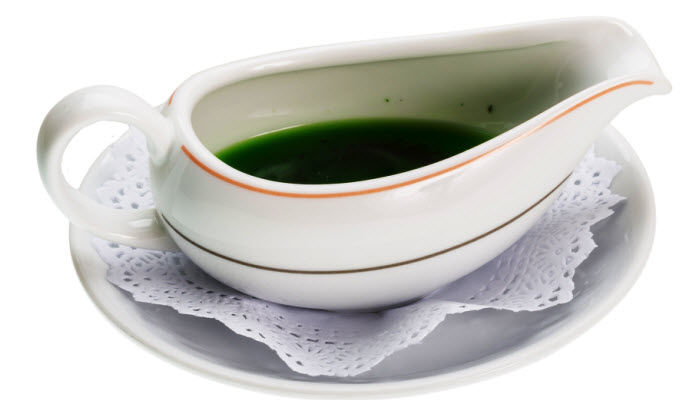 The Backstory: When most people think of mint sauce, their first reaction is: lamb. And that makes sense as mint is traditionally paired with mint jelly or mint sauce of some kind. But mint sauce is truly versatile and while it's not typically found in Jewish cooking, it's such a light and delicious accompaniment (and one I happen to love), that I thought I would share it with you anyway. More of the Backstory after the recipe…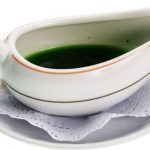 Mint Sauce
This deep green sauce is gorgeous to look at and the perfect balance of sweet and savory.
Ingredients
1

cup

white vinegar

2/3

cup

sugar

1

cup

fresh mint leaves
Instructions
In a medium saucepan, boil the vinegar and sugar. When the sugar is dissolved remove from heat. This should take no more than 5 minutes. Place the mint leaves in a separate bowl. Pour the sugar and vinegar mixture over the mint leaves.

Let this cool for about 45 minutes. Strain the liquid to remove any of the mint leaves. Serve immediately or refrigerate until ready to use.
…The Backstory continues: Sauces, gravies, or dressings, no matter what they are called, are the finishing touches to a dish. They bring out the flavors of the most boring dishes, and yet when anything is served with a delicious sauce, you probably hear someone say, " Gee, this is delicious." Please, pass the sauce back here again".
Mint sauce is an easy to prepare sauce and requires only a few minutes of cooking.  It is absolutely delicious on grilled or baked salmon, grilled vegetables, freshly sliced tomatoes, grilled chicken, and even as a dip. I wouldn't recommend you use it on latkes, but on herb roasted potatoes–a home run.
Be creative and see what else you can do with this refreshing sauce.
Please follow and like us: