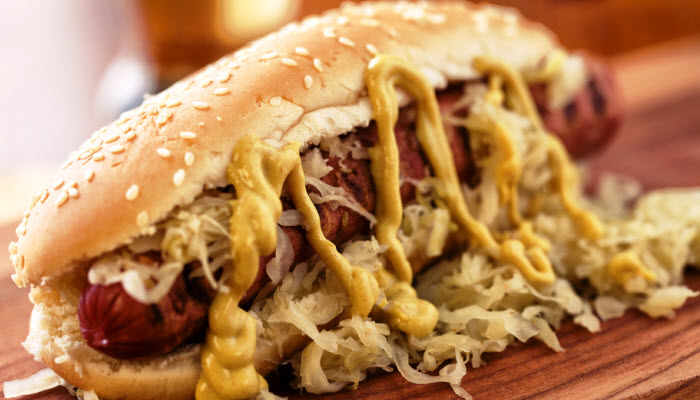 Old-Fashioned Kosher Hot Dogs
Old-fashioned Kosher hot dogs are a walk down memory lane with a taste like nothing else. Grill some up tonight for a savory bite of nostalgia.
The Backstory: Anyone who knows me, knows this is my favorite food of all time.  I could eat hot dogs three times a day and never tire of it. According to the history of this famous form of a sausage, it arrived on our shores from Germany in the early 1900s and made its way to Nathan's in Coney Island, New York. It is one of the things that Brooklyn is well known for.  The other thing is the Brooklyn Dodgers. We (especially me) have still not forgiven them for leaving us.   More of the Backstory after the recipe…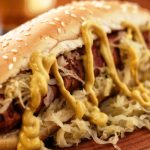 Old-Fashioned Kosher Hot Dogs
Grilled Kosher hot dogs are a staple in Jewish cuisine. Nothing fancy to look at but the pleasure is in the taste. Add some mustard and sauerkraut and you've got yourself a slice of heaven on a plate.
Ingredients
8

Kosher hot dogs

allow 2 per person

8

Hot dog buns

mustard

to taste

1-2

cups

sauerkraut

to taste
Instructions
Preheat grill or grill pan on medium heat. Put the buns on a large platter, or they can be grilled. Watch, do not let the buns burn. Put the hot dogs on the grill and let cook for 3-5 minutes. Watch them carefully so they don't burn. You will have to judge as there really is no set time as to when they will be ready. Turn them as they start to brown, and them turn until they are brown on all sides.

While they are cooking, warm the sauerkraut on medium heat in a small saucepan. At this point you can grill the buns, if you so desire.

Remove hot dogs and place in buns. Serve with mustard, sauerkraut, relish, and any other condiments you like.
…The Backstory continues: But back to the hot dogs.  On rare occasions, my dad would pile us into his 1951 Chevy and we would head for Nathan's.  I do not recall what my sisters or parents had but I know what I ate. Nathan's had a long counter outside, completely open, no windows.  I would start at one end of the counter. I started with a hot dog first, then Chow Mein on a bun, followed by crispy french fries. This reminded me of an "open " buffet.  Last but not least, I finished off my smorgasbord with what I wanted. But I was not satisfied, stuffed yes, I wanted  another hot dog. The last one did the trick, I was done,and happy, happy!
Hot dogs can be boiled, cut up and made into a casserole with baked beans, or wrapped in crescent rolls and baked.  Any way you prepare them, they are a winner.  I like them the traditional way, on a grill, with mustard, and sauerkraut.  No onions, no relish, no chili. That stuff is strictly for non-New Yorkers.
Years later when I became engaged, one of my friends told me that a visit to Nathan's is a must. I asked why, curious as to what being engaged had to do with Nathan's (not that I needed an excuse to go). She explained that the glow from the lighting fixtures made her engagement ring look so beautiful that I must go and see what my ring would look like. Off my fiance and I went. Was she ever right. The ring looked fantastic under their lights. Of course I was back at my buffet counter. Ring looked great, and my favorite food was delicious..
My husband and I made the trek to Nathan's many more times over the years. Sometimes even after we went to a wedding or Bar Mitzvah, he in a tuxedo and me in an evening gown.  It did not matter that it was one o'clock in the morning and we were dressed to kill.  If we were in Brooklyn, I had to have my fix.
P.S. Don't forget the french fries.
Please follow and like us: